Live! From beautiful Pine Beach New Jersey: Welcome to the world's most popular metal finishing website
topic 60769
Etching to get roughened surface on Phillips screwdrivers
May 28, 2018
Q. When I was younger, phillips head screwdrivers had more "grip" to the end of them. This really helped when driving 4 inch screws into wood. They also had some horizontal ridges that bit into the screw to prevent it from lifting out. It seems today they just don't do that anymore.

I am wondering if there is any way to etch the end of my screwdrivers and bits for a rough finish? I am also looking into a DIY EDM sinker for the ridges.

While I have looked into electrofinishing, it seems it is designed to polish, but maybe if I intentionally use wrong voltages I can get a rough surface instead :)
Alan Halls
Entrepreneur - Lehi, Utah, USA
---
May 2018

Hi Alan. Thanks for the question which inspired me to review the fascinating history of the Phillips head, and learn about one of its challengers, the Frearson (Reed & Prince).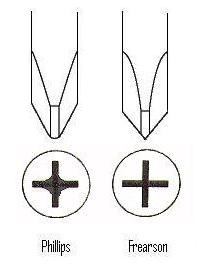 The Phillips screwdriver was developed for early automation systems which lacked clutches or good torque limitation and thus tended to break off screw heads causing a serious line jam. So the Philips head was deliberately designed to 'cam out' instead of breaking the screw. Thus the problem you and I see with it was an important feature rather than a shortcoming :-)
Frearson screws have a cross head which looks nearly identical, but the cross has sharp corners instead of the slightly rounded corners of the Phillips. It is designed to stay tightly engaged rather than cam out like the Phillips. So those ridges and roughness you saw sound more likely to have been on Frearson screw drivers than on Phillips. I also read that the heads of long cabinet screws are Frearson rather than Phillips for this reason. You might check whether the screws in question have those rounded corners or straight corners and, if they're straight, look into getting Frearson screwdrivers instead of Phillips.
You can probably electroetch stainless steel screwdrivers, or simply etch them with ferric chloride; but plated screwdrivers would be ruined by attempts to etch them. Good luck.
Regards,
Ted Mooney, P.E. RET
finishing.com
Pine Beach, New Jersey
Striving to live "Aloha"
---
June 22, 2018

Thank you so much for your response, it led me in the perfect direction. It turns out what I was looking for was the Posidrive bits, but there are many variations these days. The one I was looking for was:
https://www.ebay.com/itm/10pcs-25mm-PZ2-Impact-Driver-Pozidriv-Magnetic-Screwdriver-Bits-1-4-Hex-Shank/202303053338?ssPageName=STRK%3AMEBIDX%3AIT&_trksid=p2057872.m2749.l2649

One of the interesting things I found was a diamond coated one:
http://www.acefixings.com/components/com_virtuemart/shop_image/product/5c0606f8cf6c096d4354df644da50b62.jpg

That got me thinking again about putting a surface finish on my tools, tweezers, dremel bits... I found a near endless supply of zirconia powder from dental labs, it needs to be sintered but that could be done easily and then electroplated on.

From my searches it looks like an electroless nickel plating may be the starting point to coat each crystal with nickel, then it can be added to the tools similarly to electroforming maybe. If you wanted to expose the sharp edges of the crystals, you might be able to do some electropolishing which would take the metal off the tips and place it back in the valleys, but shouldn't touch the zirconia crystals leaving them partially exposed and sharp.

It is taking me some time to make any progress with so many other projects, but thank you so much for helping me find what I was looking for - and a new hobby :)
Alan Halls
[returning]
- Lehi, Utah, USA


If you have a question in mind which seems off topic, please Search the Site