Live! From beautiful Pine Beach New Jersey: Welcome to the world's most popular metal finishing website
topic 60729
Plating gun barrels with precious metals
April 3, 2018
Q. Hi guys

I have a question for you, if a gun barrel were electroplated, would the repeated shocks caused by the blast cause the plating to come off? I don't think so because you can patina a barrel (to blue it) but I am new to patinas and plating generally although I use it in my work (I use a plating company currently but am saving up and learning in preparation for being able to plate and electroform myself) I'm just getting my first patina chemicals now for colouring silver, but I have a reasonable amount of technical knowledge of steel and metal generally as by trade I am a jeweler and love steel and metal generally.

Obviously I'm not going to try to plate the inside...

I'm working on a long term project and would appreciate the help.
By the way I've had lots of great info and help from your posts before and I think you have a really good site!

Thanks
Robert Ketch
Jeweller - Tonbridge, Kent, United Kingdom
---
April 2018
A. Hi Robert. If properly plated, the plating will not come off no matter what. Plating sometimes achieves 'perfect adhesion' (it is not possible to mechanically separate at the interface, because either the plating or the substrate will rip first).
But there may be the hazard of hydrogen embrittlement of hardened steel. Someone actually familiar with plating of gun barrels (the inside bore of large guns and some small arms are chrome plated) can advise you on that; sorry, I don't know whether your gun barrels require hydrogen embrittlement relief baking after plating.
Regards,
Ted Mooney, P.E. RET
finishing.com
Pine Beach, New Jersey
Striving to live "Aloha"
---
April 7, 2018
A. Hi Robert
Hydrogen embrittlement is the least of your problems.
In UK, unless you are a registered gunsmith, you cannot legally work on guns.
Electroplating a barrel almost certainly contravenes the rules of proof for which the penalties are very severe.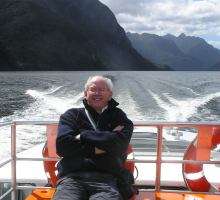 Geoff Smith
Hampshire, England
---
April 7, 2018

Thanks to both of you, I was aware that you couldn't modify but thought I would be allowed to plate the barrels as a separate entity, I'll find a gunsmith to coordinate with once I know what I'm doing properly. Thanks for the pointer on the actual process of electroplating as either way I'll be able to put the knowledge to good use.

Many thanks
Robert Ketch
[returning]
- Tonbridge Kent England


If you have a question in mind which seems off topic, please Search the Site