Live! From beautiful Pine Beach New Jersey: Welcome to the world's most popular metal finishing website
topic 60702
What is flash anodizing?
February 21, 2018
Q. Hi Everyone

I would like to know what is flash anodizing? And what is the process?
My customer is looking for this kind of surface treatment on aluminum profiles, but little information for it.

Thank you and looking for reply if anyone knows it.
Angelina Lu
- Taipei , Taiwan
---
February 2018
Hi Angelina. Sorry, I have personally never heard of Flash Anodizing.
But if no one comes forward who knows of it, I will mention that there is an old parlor game called Telephone or Chinese Whispers where six or eight people sit in a row of chairs and the first person whispers a word or phrase into the ear of the second, who whispers what he heard into the ear of the third and so on. The last person eventually shouts out what he heard, to the amusement of all. If we add in the possible element of translation when people speak different languages it can get silly fast :-)
My guess is that your customer is interested in Spark Anodizing. Good luck.
Regards,
Ted Mooney, P.E. RET
finishing.com
Pine Beach, New Jersey
Striving to live "Aloha"
---
March 15, 2018
A. On our zinc electroplating line we occasionally do what is called a flash coat. If a HDG coated coil has poor adhesion a very thin coat of EG is applied. I wonder if the term flash in the only commonality or if what your looking for is somewhat similar.
Ronald Zeeman
- Brampton, Ontario, Canada
---
April 14, 2018
A. Flash anodizing is typically used as a deburring process. The part is anodized for a very short time resulting in a thin layer of aluminum oxide. The anodizing is typically stripped afterward. This entire process can remove very minute burrs and sharp edges on an aluminum part.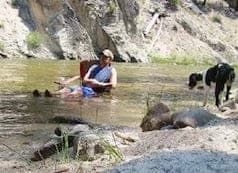 Marc Green
anodizer - Idaho


If you have a question in mind which seems off topic, please Search the Site