topic 60520
Cu Anode balls Utilization Improvement in Electroplating Process
October 3, 2017
Q. Hi,
We are a manufacturing company which utilizes Cu and Sn electroplating process in our backend steps. I would like to solicit tips on how to improve utilization of our Cu and Sn anode balls (w/o reducing plating thickness) or improve tool UPH or improve plating uniformity. We basically use a typical electroplating setup with Cu anode balls (in Cu bath) and Sn anode balls (in Sn bath). Our cathode substrates (held by plating jigs) sequentially go through Cu bath then Sn bath via belt carousel. Very generic inputs are welcome. Appreciate your feedback. Thanks.
Jun Idjao
- LAGUNA, PHILIPPINES
---
Digital version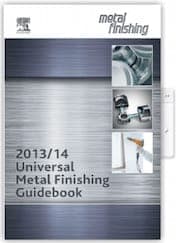 (No longer published, but Elsevier hasn't yet de-commissioned the online version of the Guidebook)
Download it before it disappears.
October 2017
A. Hi Jun. What do you mean by "improve utilization"? Do you mean you throw away the anode balls when they become small, but want to know how to not have to do that?
What is 'tool UPH' -- units per hour produced by the plating line? You want to increase the production rate? Do you have the rectifier power necessary? Have you run any Hull Cells which indicate that higher current density will not be a problem?
Uniformity refers to what, the plating being thicker in some areas and thinner in others?
By "belt carousel" are you saying that the parts are inserted into pockets in a continuous belt sort of like bullets are inserted into a bandolier? You are plating some sort of electronic components?
Do you have any plating books on hand which we can refer you to for discussions of these topics? This forum can be helpful in helping you locate reference material, and in answering highly specific questions, but for very generic coverage of plating issues, a paragraph or two here is no substitute for a book or a training course :-)
Regards,
Ted Mooney, P.E. RET
finishing.com
Pine Beach, New Jersey
Striving to live "Aloha"


If you have a question in mind which seems off topic, please Search the Site