Where the world gathers for
plating, anodizing, & finishing Q&As since 1989
-----
Penny Floor turned black
A. I did a penny floor in my spray tan studio. Since it was a mosaic design, I spray painted some of the pennies a bright copper color and picked out dark pennies for the contrast. I found that a lot of times the dark pennies turned green but I think that was because I use vinegar to clean them. If I could do it again I would spray paint a darker copper color and the new penny copper color and not leave any natural pennies. I covered it all with clear epoxy and it looks like beautiful glass.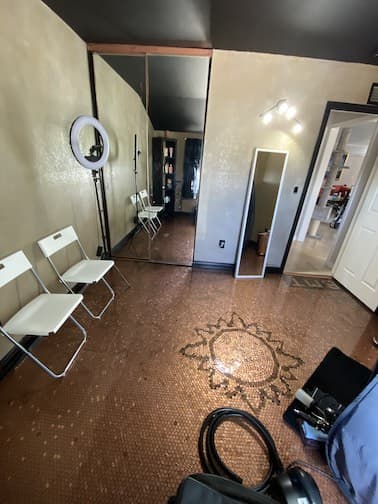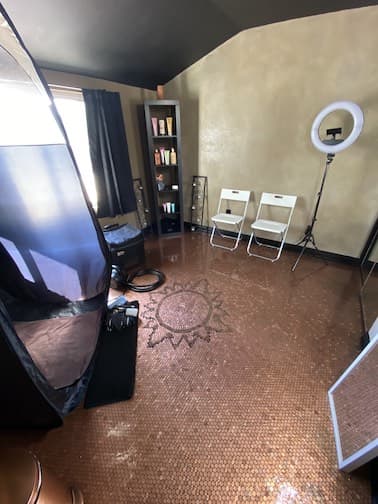 Some of the pennies I even covered in a burgundy pink glitter. I get tons of compliments. So recommendation is spray paint and then Epoxy.
Michelle Y.
Hobbyist - Fullerton California
December 31, 2022
A. Thanks Michelle. That may be the best answer :-)
Let us add one more compliment!
Luck & Regards,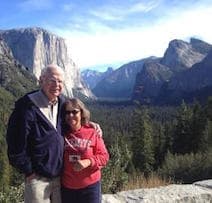 Ted Mooney, P.E. RET
Striving to live Aloha
finishing.com - Pine Beach, New Jersey



---
---
---
Closely related historical posts, oldest first ...
Q. Hello. I glued 17500 pennies to a concrete floor to make a penny floor.
(before grouting)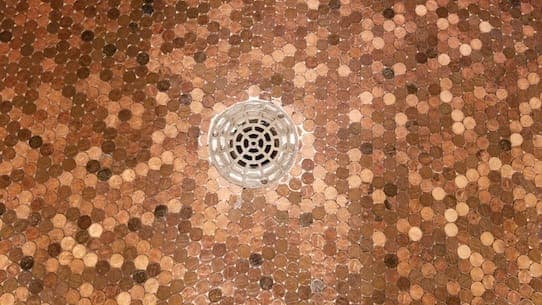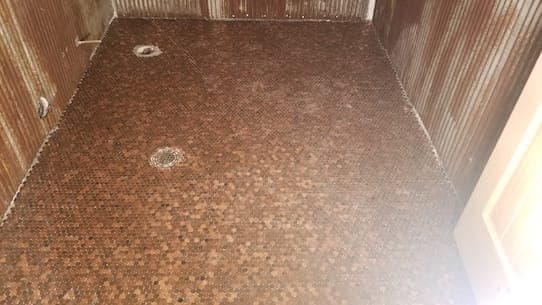 I grouted the pennies with black grout however after wiping numerous times with water I felt the grout haze did not fully come off so I used a grout haze remover. The results were all 17500 pennies turned nearly black. I have now received the material data safety sheet and the primary ingredient to the grout haze remover is hydrochloric acid.
2 days later I then used salt and vinegar and like magic the pennies turn perfectly clean; however, after numerous amounts of wiping & drying, in 3 days the pennies reoxidized.
I then used a product like Ajax, the specific ingredient is oxalic acid. If I scrub the pennies, they come perfectly clean like a light pink color. I rinse very many times and come back the next day and they're dark Brown. I use salt and vinegar and Ajax at the same time, they once again turn very pink, look good in the beginning, get rinsed and once again changed to a different color dark Orange dark Brown by the next day.
On the next day if I wipe them with ketchup I get the best final result. Yet only a burnt orange. In my 10 by 10 bathroom with 17500 pennies in 6 different experimental spots I have gotten 6 different results. Some are copper but blue/green, some are dark Brown some are dark Orange one small section it's really bright copper which I can't even remember how I did that spot, but can't seen to duplicate.
(after many attempts)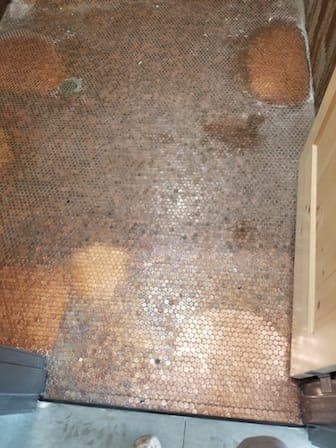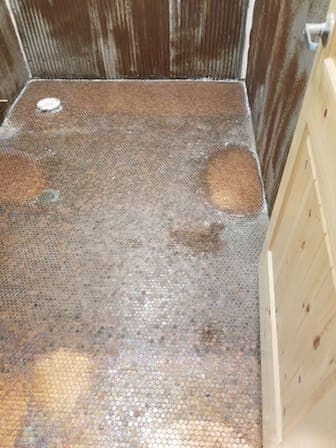 Somehow I need to figure out how to make them consistent and how to have them stay the same. By the next day or the day after seems like they constantly re-oxidize QUICK!
P.S. the Next step will be an epoxy on the pennies, and step one in the instructions for epoxy they say wipe with non water based lacquer thinner I feel like I'm getting a million chemicals on these pennies and I'm scared. I'm hoping not to get a ice scraper out, and start all over, thanks for any input. Mike
Michael Smith
Frustrated Owner - Westfield Wisconsin USA
September 2017
A. Hi Michael. Get it clean one final time with Barkeepers Friend [affil link] (any Ajax-like cleaner with oxalic acid can probably substitute) and then apply Incralac. This is brass lacquer which contains sodium benzotriazole (a copper preservative) to maintain the shine. It should be fine for a year or so; then, when the lacquer deteriorates, you remove it with lacquer thinner, clean if required, and re-apply.
You can apply the sodium benzotriazole first and separately from the lacquer if you wish, but it may be hard for a consumer to find it. Good luck, and let us know how it works.
Regards,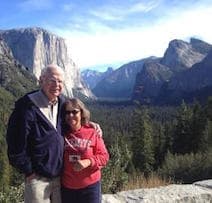 Ted Mooney
, P.E. RET
Striving to live Aloha
finishing.com - Pine Beach, New Jersey
Q. It has been suggested that I use the Oxalic acid one more time on the entire floor surface. the product would be applied by shaking it on and adding water to a paste consistency and then rinsed with water 3 separate buckets of fresh warm water, then dried by micro fiber cloth, then?
Do I instantly use HiMedia GRM1108-100G 1H-Benzotriazole, Extra Pure, 100 g which is found online and should be applied how? Does it get rinsed after applied, I have never heard of this product; is great care to be taken that the floor is dry from any water and oxalic acid? One thing to be considered, however, the dryer the floor gets after oxalic acid is applied and rinsed, the pennies oxidize / turn dark / not shiny, can the Benzotriazole be applied during the oxalic acid process? And at what timing shall the Incralac be sprayed on top of the pennies, right way or days later after cure or rinsing or if floor would be damp / not 100% dry would all be lost? Also I understand I am not posting the chemical compounds to the EPOXY (which I can soon) yet. Does anyone know if the Incralac Spray Lacquer will accept a top coating of Epoxy / consisting of Resin and Hardener? Sorry I do not have exact chemical compound in this response question of Epoxy topping. I'm using the Epoxy topping to promote the durability of the floor surface because of traffic, walking directly on the glued pennies does not sound like a good plan. Thank you.
Michael Smith
- Westfield Wisconsin USA
A. Hi again. The Barkeeper's Friend ought to tell you how to use it; I believe it's a scouring powder, not something you just shake and leave. As for how much rinsing is required to rinse it off, I can't say whether it's 2 buckets or 10.
If you use Incralac you shouldn't need benzotriazole as it already has it. Assuming the benzotriazole you've found is being marketed as a copper preservative, it should have instructions for the application, as should the Incralac. But the general idea is that benzotriazole is diluted with water, binds with the copper, and can then be rinsed. I think timing will become less critical once the benzotriazole is on the copper.
As for the compatibility of epoxy and brass lacquer, I don't know, and would be surprised if anyone else knows because it's unusual to put a permanent epoxy onto a deliberately removable brass lacquer. If you clean the surface with lacquer thinner per the epoxy instructions, it will remove the lacquer. If you're going to use separate benzotriazole, and you're going to epoxy it, I'd probably go directly from benzotriazole to epoxy and forget the brass lacquer.
But really, what you should do is experiment first. Glue a dozen pennies onto a little piece of plywood, grout them, wash the grout off, do the Barkeeper's Friend, do the benzotriazole, do the epoxy and make sure what you get. Good luck.
Thanks for the umpteenth lesson on this site that you don't use acid to remove grout haze; you patiently wash it away with plain water while it's still wet; even if it feels like you've done it a dozen times and your arms are falling off, you keep washing it until all the haze is gone.
Regards,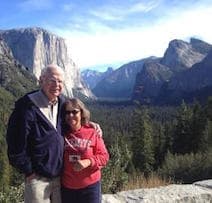 Ted Mooney
, P.E. RET
Striving to live Aloha
finishing.com - Pine Beach, New Jersey
---
---
Epoxy & pennies floor won't dry
Q. Why would a section of my penny floor look like it has motor oil on it . I used epoxy and resin ... this part of the floor is still wet a week later.
Cheri Penny
Pennsylvania
April 25, 2020
A. Hi Cheri. Epoxy doesn't "dry" like paint; it never dries. Rather the two components react together to convert from two liquids to one solid. Are you sure you mixed 'Part A' in the proper ratio with 'Part B'?
It might just vaguely be possible to get it to harden by correcting the ratio. Try wiping a small area with whichever component was shorted and see if you get lucky.
Regards,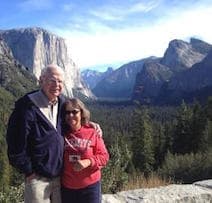 Ted Mooney
, P.E. RET
Striving to live Aloha
finishing.com - Pine Beach, New Jersey
---
---
Q. Is there any way to get black grout off the pennies? I installed a penny floor in the bathroom of my camp. My husband did the grouting. Long story short, he was careless and didn't take the time to do it right. On my next trip to camp I found my beautiful penny floor covered in grout.
Kelly Beale
- Apollo, Pennsylvania
June 1, 2020
---
June 2020
A. Hi Kelly. I suspect that you have no choice but to use:
1. An acid grout remover;
2. Then Barkeepers Friend [affil link] or something similar;
3a. Then benzotriazole followed by brass lacquer or epoxy or clearcoat
or
3b. Incralac or Everbrite [a finishing.com supporting advertiser] (coating products with benzotriazole in them).

My feeling, although I've never done a penny floor, is that small experiments remain necessary because your experience and the information available is not quite complete enough to be relied upon.
Regards,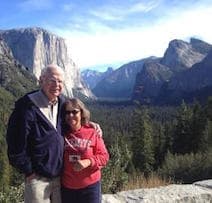 Ted Mooney
, P.E. RET
Striving to live Aloha
finishing.com - Pine Beach, New Jersey
finishing.com is made possible by ...
Protect stainless steel grills & outdoor kitchens with Everbrite