60,000 Q&A topics -- Education, Aloha, & Fun
topic 60503
Penny Floor turned black
A discussion started in 2017 but continuing through 2020
August 29, 2017
Q. Hello. I glued 17500 pennies to a concrete floor to make a penny floor.
(before grouting)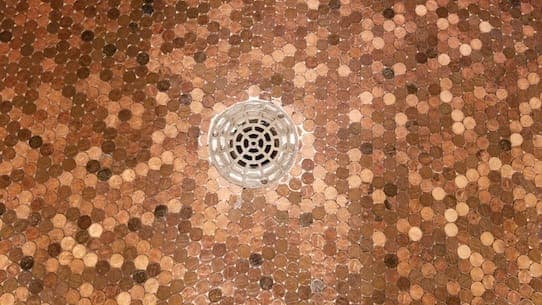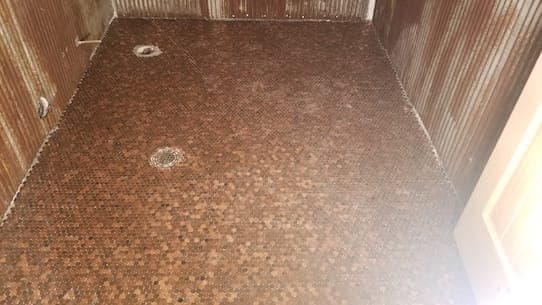 I grouted the pennies with black grout however after wiping numerous times with water I felt the grout haze did not fully come off so I used a grout haze remover. The results were all 17500 pennies turned nearly black. I have now received the material data safety sheet and the primary ingredient to the grout haze remover is hydrochloric acid.
2 days later I then used salt and vinegar and like magic the pennies turn perfectly clean; however, after numerous amounts of wiping & drying, in 3 days the pennies reoxidized.
I then used a product like Ajax, the specific ingredient is oxalic acid. If I scrub the pennies, they come perfectly clean like a light pink color. I rinse very many times and come back the next day and they're dark Brown. I use salt and vinegar and Ajax at the same time, they once again turn very pink, look good in the beginning, get rinsed and once again changed to a different color dark Orange dark Brown by the next day.
On the next day if I wipe them with ketchup I get the best final result. Yet only a burnt orange. In my 10 by 10 bathroom with 17500 pennies in 6 different experimental spots I have gotten 6 different results. Some are copper but blue/green, some are dark Brown some are dark Orange one small section it's really bright copper which I can't even remember how I did that spot, but can't seen to duplicate.
(after many attempts)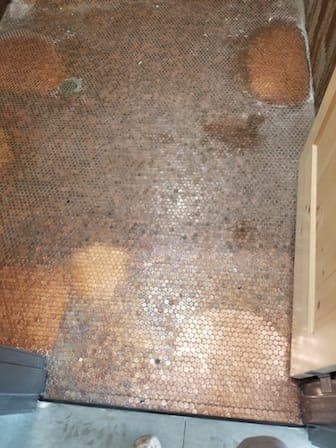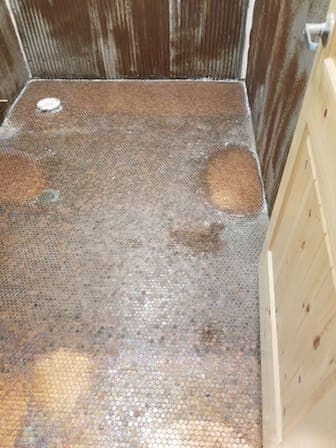 Somehow I need to figure out how to make them consistent and how to have them stay the same. By the next day or the day after seems like they constantly re-oxidize QUICK!
P.S. the Next step will be an epoxy on the pennies, and step one in the instructions for epoxy they say wipe with non water based lacquer thinner I feel like I'm getting a million chemicals on these pennies and I'm scared. I'm hoping not to get a ice scraper out, and start all over, thanks for any input. Mike
Michael Smith
Frustrated Owner - Westfield Wisconsin USA
---
September 1, 2017
Q. It has been suggested that I use the Oxalic acid one more time on the entire floor surface. the product would be applied by shaking it on and adding water to a paste consistency and then rinsed with water 3 separate buckets of fresh warm water, then dried by micro fiber cloth, then?
Do I instantly use HiMedia GRM1108-100G 1H-Benzotriazole, Extra Pure, 100 g which is found online and should be applied how? Does it get rinsed after applied, I have never heard of this product; is great care to be taken that the floor is dry from any water and oxalic acid? One thing to be considered, however, the dryer the floor gets after oxalic acid is applied and rinsed, the pennies oxidize / turn dark / not shiny, can the Benzotriazole be applied during the oxalic acid process? And at what timing shall the Incralac be sprayed on top of the pennies, right way or days later after cure or rinsing or if floor would be damp / not 100% dry would all be lost? Also I understand I am not posting the chemical compounds to the EPOXY (which I can soon) yet. Does anyone know if the Incralac Spray Lacquer will accept a top coating of Epoxy / consisting of Resin and Hardener? Sorry I do not have exact chemical compound in this response question of Epoxy topping. I'm using the Epoxy topping to promote the durability of the floor surface because of traffic, walking directly on the glued pennies does not sound like a good plan. Thank you.
Michael Smith
- Westfield Wisconsin USA
---
---
Epoxy & pennies floor won't dry
April 25, 2020
Q. Why would a section of my penny floor look like it has motor oil on it . I used epoxy and resin ... this part of the floor is still wet a week later.
Cheri Penny
Pennsylvania
---
---
June 1, 2020
Q. Is there any way to get black grout off the pennies? I installed a penny floor in the bathroom of my camp. My husband did the grouting. Long story short, he was careless and didn't take the time to do it right. On my next trip to camp I found my beautiful penny floor covered in grout.
Kelly Beale
- Apollo, Pennsylvania