Where the world has
gathered for finishing Q&As since 1989
HIGH COST OF USING BAD FLUX IN HOT DIP GALVANIZING
(
-----
)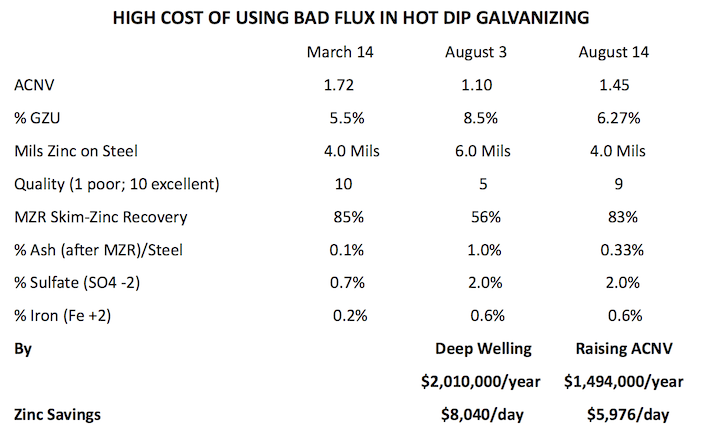 August 31, 2017
A galvanizer processes 200,000 pounds of 3/16 inch thick structural steel/day, 250 days/year, for a total of 50,000,000 pounds of steel/year. The above table shows the flux solution compositions for March 14, August 3, and August 14, 2017.
On August 3, because the sulfate was very high (2.0%) and the iron was high (0.6%), deep welling the flux and making a new flux solution was considered. Because of high cost and disruption of production, it was decided to raise the ACNV of the bad flux from 1.10 to 1.45. This caused the very high % GZU of 8.5% on August 3 to drop to 6.27% by August 14. This 2.23% drop (8.5% - 6.27% = 2.23%) reduced zinc yearly cost by $1,494,000 (0.0223 X 50,000,000 pounds X $1.34/pound = $1,494,000).
If the bad flux was deep-welled and a new flux made, the zinc yearly savings would have been $2,010,000 [(0.085 - 0.055) X 50,000,000 X $1.34/pound = $2,010,000].
Notes: Fluxes are-- temperature = 160 °F, NTNV = 3,000 ppm (These are the chlorides of Ca, Mg, Mn, K, and Na, e.g. Non-Traditional Non-Volatiles. From tap water and/or bad flux.), Baumé = 13 deg. to 14 deg., pH = 4.2 (bromophenol blue end-point).
Definitions: % GZU = [zinc consumed/steel galvanized] X 100%; ACNV = [ammonium chloride/(zinc chloride + iron chloride + sulfate)] (bake and shake method); 1,000 pounds zinc stripped off racks/day, $335,000/year, 0.5% of GZU. NiftyGalv eliminates rejects. MZR (Pyrotek). This plant needs caustic and caustic rinse to speed pickling and reduce iron/zinc sulfate crystals. It needs a second rinse between acids and flux. Finishing.com for questions.
Dr. Thomas H. Cook galvecon@gwtc.net
Dr. Thomas H. Cook
Galvanizing Consultant - Hot Springs, South Dakota, USA