topic 60479
EP Phosphate Coating on 1065 Steel Leaf Spring - Resolving Fatigue Reliability Issue
July 13, 2017
Q. After a year long project trying to improve the reliability of our springs on our low cost $80 prosthetic knee for poor populations in India, just a week ago we got data that made us think the EP Phosphate coating may be at least a partial cause of the breakage quality issue that has been plaguing our low cost innovation from scaling to more of those in need.

I provide background below, but I would love to know what other background information should I seek to obtain from my sub-supplier to help you all provide better advice?

Related to the background information below, my main technical asks are:
1) Is EP (Phosphate) coating following heat treatment a common cause of reduced reliability / fatigue life? Why?
2) To address these failures, is it likely we need to switch to another type of coating? Or should we first just try to improve the current process?

Regarding potential root causes I have read about, such as hydrogen embrittlement
3) Is the most likely cause hydrogen embrittlement, or something else?
4) If the likely cause is hydrogen embrittlement, how might we check this? Or test a change or addition to the process to prevent the issue in future coating batches?
6) If the most likely cause is something else, how might we verify this as the root cause, or change the process to prevent it in future coating batches?

-----

Background information
Issue: There is a set of 3 stacked leaf springs on our prosthetic knee. They serve to push the leg forward during the stride to prevent buckling of the prosthetic leg when the heel of the foot strikes the ground (decreases likely of an amputee falling when they step forward).

Actuation angle during 1 cycle: from 43.4 to 106.1 degrees.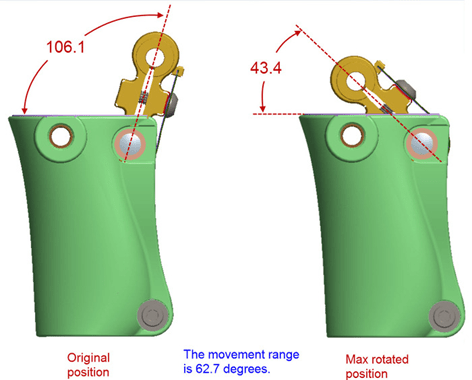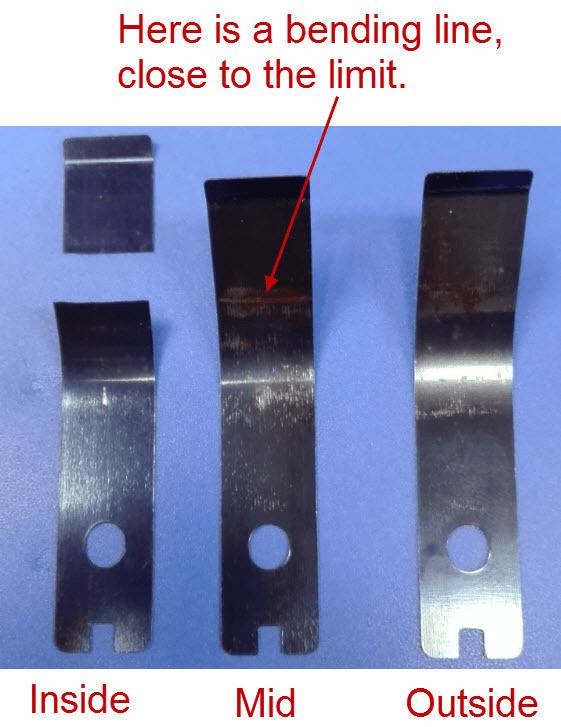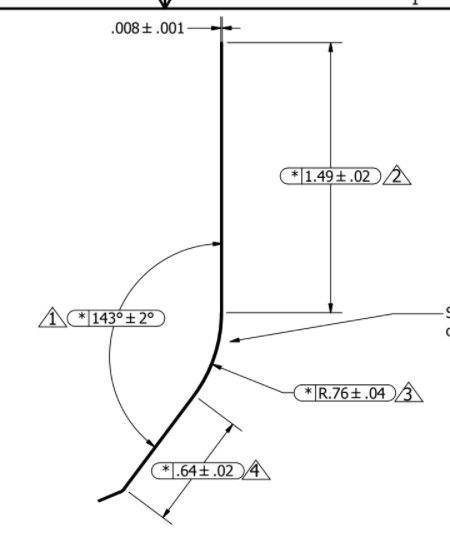 Manufacturing process - key steps
1) Obtain pre hardened, pretempered 0.2mm thick steel coils of Japanese 1065 carbon steel. Comes in at 48.5 HRC, with tensile strength 1274 MPa (can send more specs if needed)
2) Blanks cuts via progressive die -- final geometry except for radius in step 3
3) Form large radius in Prototype Bending Die (0.76mm radius listed above)
4) EP coating - We have heard it is a phosphate coating from the supplier, and are digging in for more details now.

We tested 18 samples, prior to be drawn or EP coated, all passed. Thought we were good to go.

But, then, we repeated our test with the same material, only adding the EP coating process (for environmental protection against salt, corrosion, etc), and have seen 2 of the 18 sets of 3 springs fail through 500,000 cycles.

So there is a pretty clear difference in performance, with the only difference in processing being the coating, is why we think the cause is related to the coating process.

Any ideas related to any of the Questions 1-6 above?
Casey Trubo
engineer at non profit - San Francisco, California, USA
P.S., Flow Chart added July 14: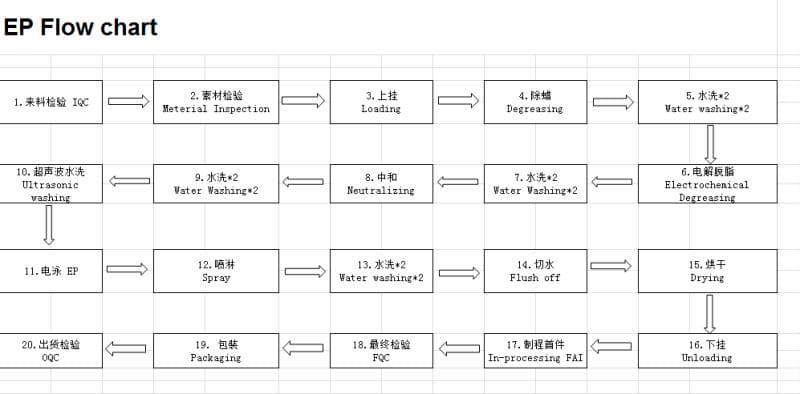 ---
July 17, 2017
Q. Brian that is incredibly helpful advice! Thanks so much!

We are attempting to check with the supplier now on their de-embrittlement process. We know there is a 30 minute drying process at 392 °F, but it sounds like that might not nearly be long enough time duration.

1 question that come out of your feedback: We have a stock of parts that we tried to de-embrittle multiple days after the coating process, when we learned that the baking might be helpful to avoid embrittlement, but before we knew how critical it was to do right after the coating (the timing). Is there any chance these parts could have been de-embrittled via our 6 hour bake at 325 °F, and would be worth putting on the fatigue tester? Or should we scrap these without too much more thought?

-----
Separately, I also had a question about on the necessity of adding a coating of oil after the phosphate coating. I have read and heard from a couple places now that doing a phosphate coating without also adding oil is silly, in that you won't achieve nearly the same amount of corrosion resistance without the oil as you would with it.

I'm not sure if oil is a part of the current process. Could the lack of oil be causing the fatigue issue? Or is fatigue unrelated, and are we just not as corrosion resistant as we could be without it? I ask as I am wondering whether to request that oil be added to the next batch, or if I should wait to see if the extra de-embrittling bake solves the issue first.

Once again I appreciate any light you all can shed here!

Casey


Casey Trubo
[returning]
D-Rev - San Francisco, C
---
July 22, 2017
Q. Hi Ted and team,
We talked with the supplier, and don't have a ton of new information, but here is what we do know in response to your question(s).

EP likely stands for electrophoresis. Apparently what is happening to our parts is not a coating with a phosphate conversion, but a direct to metal "e-coat" process, in which the parts are immersed in an electrified bath and coated with epoxy.

So that process as we now understand it is:
1. Ultrasonic wash in alkaline solution, PH 7 or 8
2. Wash w/ionized water
3. They use acid to bring the pH back down to 7
4. Wash again
5. EP coating - epoxy
6. Drying - 200 °C for 30 minutes

So given than this is a different process than the phosphate coating I originally thought, it is unclear to me if hydrogen embrittlement still remains the most likely root cause.

The coating supplier in China is willing to work with us to experiment on the exposure duration, bath voltage, bake time, etc. However, it is also still very unclear if the best choice is to experiment with the supplier we have, try another more reputable supplier than can perform a similar 'e-coat' process (such as PPG*, Henkel, Valspar**), or change the coating process altogether to a phosphate conversion coating, or at least to include a phosphate pre-treatment as a predecessor to the epoxy e-coat process.

Any thoughts would be greatly appreciated!

Casey

*http://www.ppgecoat.com/Products/Anodic-Epoxy.aspx
**http://www.valsparindustrial.com/en/products/Vectroguard/
Casey Trubo
[returning]
D-Rev - San Francisco, California
---
July 25, 2017
Q. Hi Brian,
Thank you so much for the response.

Cathodic operations causing hydrogen evolution was definitely something I was worried about, but I did not know it may be happening in the electrochemical degreasing operation, in addition to the EP coat step.

#1 I will contact the supplier today to see if he can experiment with anodic operations for both the EP coating and the electrochemical degreasing steps.

I am also going to ask him if we can experiment with the curing time/temperature.

#2
On one side, I think 200 °C for 30 minutes may be unintentionally affecting the heat treatment of the 1065 carbon steel, so I'd like to try a lower temperature.

#3
On the other side, I've heard longer bakes may help the hydrogen to escape, preventing hydrogen embrittlement, so I'd like to try a longer duration at the same temperature as well.

#4
I am also reaching out to other e-coaters and coaters in general to see if they have any suggestion for a bulk coating process that doesn't require such a high heat for curing/drying, and/or that might be less susceptible to hydrogen embrittlement.

Anyone's thoughts on any of these paths would be welcome!

Casey
Casey Trubo
[returning]
D-Rev - San Francisco
---
July 27, 2017
Q. Hi Anna,
I had not considered electropolishing. And I assume you mean e-polishing before, not after the e-coating process, correct?

Could you perhaps elaborate on why it would help in my situation? And what any disadvantages there might be to e-polishing?

Also -- can e-polishing be done in bulk, i.e., thousands of small parts at once?

Casey
Casey Trubo
[returning]
D-Rev - San Francisco, California, USA


This public forum has 60,000 threads. If you have a question in mind which seems off topic to this thread, you might prefer to Search the Site