topic 60445
Need to selectively get right patina colors to make world globe
April 12, 2017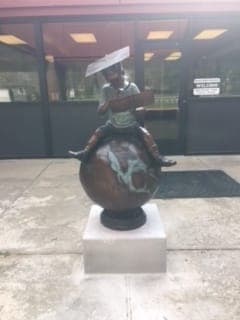 Q. I ordered a bronze sculpture of a boy sitting on a globe last fall. When it arrived, the part that was supposed to be North America didn't even resemble North America. Since this piece is going in front of the school, I complained to the company immediately. After months of going back and forth they sent me a bottle of patina and told me I could easily fix the statue. I've never done anything like this, but I have gone online and done quiet a bit of research about the process.
I'm assuming the piece has had a clear coat applied, and I'm wondering if the patina will work without removing the clear coat, or if I need to remove the clear coat where I will be working. If I need to remove it, can you tell me how? I have attached a picture of the sculpture . Thank you for any guidance you can give me.
Cynthia S
[last name deleted for privacy by Editor]
school principal - Kansas
---
April 2017
A. Hi Cynthia. I'm only looking at a picture, and they can be deceiving, but I have to agree with you that this sculpture is not fit for its purpose until it is patinated correctly. I would think the artist/seller is responsible for that, and I hope you haven't paid the bill; I wouldn't.
As for you 'easily fixing the statue' ... they couldn't do it right, but they think you easily can? Sorry, but in my opinion fixing this piece of artwork is a job for a metal artist, not for a school principal with no prior experience in the subject. If you "can't win" and must proceed, please try to find a metalworking artist who will donate their time to the school or work on the cheap as a matter of civic pride. Experimenting on public artwork is not the best way to learn the subject of patinas :-)
Regards,
Ted Mooney, P.E. RET
finishing.com
Pine Beach, New Jersey
Striving to live "Aloha"
---
April 25, 2017

Thank you for your input. I know this is not a good situation to be in, but I was given very little choice as I had to pay up front for the statue before they would ship it to me. I live in rural Kansas, and I'm not sure how many metal artists are anywhere close. I have reached out to two universities to see if they have anyone who may be able to help me correct the patina on the statue.
Cynthia S
[returning]
school principal - Kansas
---
April 2017
A. I think you're on the right track looking for somebody with some prior experience. They may recognize exactly what needs to be done. In general it looks to me, like you have:
- a brown patina for the ocean areas, which will need a clearcoat to retain, and which may already have one; and
- a verdigris patina for the land masses, which might not need a clearcoat ... but if an inexperienced person like you or me was doing it, I'd probably clearcoat the whole thing when done.
It is hard to know from a picture whether there is a clearcoat, but high resistance on a V-O-M would probably indicate a clear coat, and low resistance the absence of a clear coat. With luck, it's lacquer which can be removed with acetone; if it's a more durable clear coat which can only be removed with aircraft stripper, that's another complication because of the toxicity. It's a cool piece if the land can be made to look like land :-)
Best of luck!
Regards,
Ted Mooney, P.E. RET
finishing.com
Pine Beach, New Jersey
Striving to live "Aloha"


This public forum has 60,000 threads. If you have a question in mind which seems off topic to this thread, you might prefer to Search the Site