topic 60406
Finishing of Iron Pipe for Furniture
March 1, 2017
Q. I'm buying iron pipe from China. The same kind of stuff you get at Home Depot for plumbing gas and water into your house. There's a booming business in decor and furniture using this stuff.

The Chinese company I get mine from is way cheaper than any source I've found here and they clean and (I think) e-coat it. The result is a very clean well finished product -- just perfect for tables and shelves and so on.

Now I don't have a big problem with buying this stuff from China except that shipping is expensive and time-consuming.

I'd like to know if anybody thinks it's likely that I could get the same finish from a finishing shop here? Especially as some batches might only be a 30-50 lbs at a time. Or is it at all viable to undertake this finish myself for small batches?

If the answer is switch to powder coating (which I've thought about), how would you productionize cleaning of oily, sticky, tar-y pipe?

Thanks!
Jon Richings
- Springville, Utah, USA
---
March 2017
A. Hi Jon. We don't have a picture of the furniture or of the finish, and you don't know quite what it is, so I don't have much idea what you want. But certainly you can find shops which will plate, powder coat, paint, or electrocoat pipe for you.
Cleaning is not a big deal, it's part of the production line. The pipes would probably be racked for processing, but for really large production it is possible to roll the pipes down ramps, etc.
Whether you can do it yourself requires some introduction regarding who you are. You certainly can't do it at home, but you can do it in a factory. We'd need more info. Good luck.
Regards,
Ted Mooney, P.E. RET
finishing.com
Pine Beach, New Jersey
Striving to live "Aloha"
---
March 9, 2017
Q. Thanks Ted,

I've attached some pictures of these parts. We are currently a very small operation with minimal resources (think garage) but we are growing fast and raising money so I am planning for the near future. I'm told the e-coat is electrophoretic. I know it's immersed and a kind of electroplating of paint. It's a very nice finish and very tough.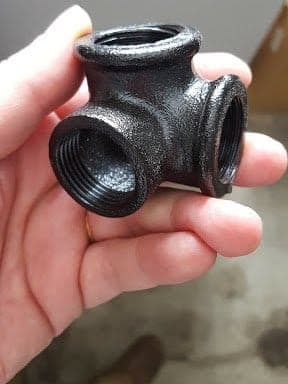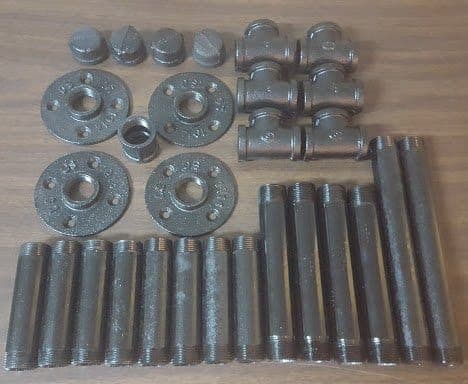 At the moment we are hand cleaning the tar-ry paint off black pipes and the oil and grease and assorted gunk off galvanized pipe using whatever solvents seem to work. It's VERY labor intensive. I'd love to find a reliable non-toxic bath that we could just dunk stuff in, but I'm guessing that non-toxic and reliable don't go in the same sentence here.
Jon Richings
[returning]
Blackfriars Ironworks - Springville, Utah , USA
---
March 2017
A. Hi Jon. Sometimes the problem is not that "non-toxic and reliable don't go in the same sentence" but that "toxic" can be an emotionally charged but rather meaningless word :-)
Lye (NaOH), almost boiling hot and with a little detergent, is ideal for removing grease and oil and such from steel/iron. But is this "toxic"? Well, 'boiling hot' would certainly be very injurious to your skin, and the caustic makes it much more so. And even cold lye is very harmful to skin and certainly poisonous. But after use and neutralization and dilution it's nothing but soap and salt... no dangerous or persistent chemicals. So, is it more 'toxic' than molten iron or red-hot coal? Not really.
You could investigate a small e-coating system or powder coating system, but understanding your situation now, I'd probably suggest (if you can get the cleaning down to practical) applying a direct to metal primer and then some attractive commercial spray paint cans.
Luck and Regards,
Ted Mooney, P.E. RET
finishing.com
Pine Beach, New Jersey
Striving to live "Aloha"
---
March 11, 2017

Thanks a lot Ted, that helps. Lye sounds like a good solution. I did a little reading up on it and it sounds like if I take the usual precautions it's probably a lot less harmeful to the environment, the shop, me, etc than many other things. Thanks for pointing me in the right direction!
Jon Richings
[returning]
Blackfriars Ironworks - Springville, Utah, USA


This public forum has 60,000 threads. If you have a question in mind which seems off topic to this thread, you might prefer to Search the Site