topic 60384
How can I bond/adhere heavily rusted pieces of metal to each other?
February 3, 2017
Q. I have recently become interested in collecting marine debris metals for the purpose of creating sculptures. I have an ample supply of materials to work with, but I'm insure of how to construct the actual sculptures. The heavy rust and corrosion is what gives each piece of debris it's interesting character, so I don't want to strip the pieces down to uncompromised metal, but I realized the powdery finish of rust makes a poor surface for bonding. Since the pieces will just be decorative I don't need a high degree of structural integrity, but I do need them to stay intact long term. I am planning to experiment with two-part epoxies, but I thought I would check to see if anybody with experience and expertise could point me in the right direction. Thanks!
Angela Smith
Hobby Artist - Danielsville, Georgia USA
---
February 5, 2017
A. Hi Angela,
It sounds like you are not interested in making an underlying frame with fasteners attaching the rusted articles. In that case, a couple of ideas come to mind. Perhaps grind down the rust in the joint areas and then weld, solder or use an epoxy followed by a lacquer. Holes can be drilled and fasteners can be used as well.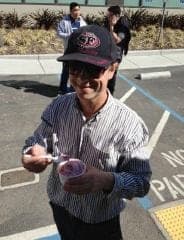 Blake Kneedler
Feather Hollow Eng.
Stockton, California


This public forum has 60,000 threads. If you have a question in mind which seems off topic to this thread, you might prefer to Search the Site