Serious Education ... plus the most fun you can have in metal finishing.
Chrome / Nickel Plating for High End Showers
January 31, 2017
Q. Our company specialises in the manufactures of bespoke architectural metalwork mainly brass and stainless steel. We are based in Longford, Ireland

We recently undertook a project to manufacture 25 no. shower screen units for an up market apartment block in London. The finish was a mix of mirror nickel and chrome. We were advised that brass was the best substrate material to use in a shower environment. We contemplated using multi member brass section brazed together, we also looked at brass extrusions, but due to a number of technical issue, we ended up machine milling the frames from solid brass flat bar. The nickel finished units were machined from 3" x 1.5" flat bar and the chrome finished units from 2" x 1.5" flat bar. This turned out to be a very expensive option, it also left the doors and fixed frames very heavy.

I don't know if you can help in this matter but here is my query. Going forward we are hoping to enter the high end shower screen market, and to know weather it is possible to plate a hard plastic or alternative solid material to obtain a nickel/chrome finish. The finished product would need to be both durable and robust for a shower environment.

Thank you
Philip Sheridan
Design Engineer - Longford, Ireland
---
January 2017
A. Hi Philip. The majority of the world's automobile grills are nickel-chrome plated plastic, so it's certainly possible ... but plating on plastic is a very tricky thing better suited to large mass production than bespoke craftwork.
I agree with your earlier assessment that brass is the "best" substrate, but what should be very do-able, less expensive, and much lighter is aluminum. Good luck.
Regards,
Ted Mooney, P.E. RET
finishing.com
Pine Beach, New Jersey
---
January 31, 2017
Q. Thanks Ted,

The original working sample was solid machined aluminium. We went to one company that assured us that they could electroless nickel plate, but the finish was not acceptable to the client as it did not have a pristine reflection, that was a must for them.
The chrome platers would not stand over chroming aluminium in a shower environment and stated it would flake off in 2-3 years. We also had another issue some of the member were 2.7m long. Most platers in the UK can't handle anything over 2.0 m long.

Philip
Philip Sheridan
[returning]
Longfords - Longford, Ireland
---
February 6, 2017
A. Hi Philip,
How about using polished aluminium with a clear anodize? It's not unusual for folks in Europe to send parts to the States for processing.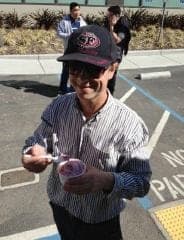 Blake Kneedler
Feather Hollow Eng.
Stockton, California