topic 60283
Cosmetic finish for a brazed Brass/Aluminum part
October 6, 2016
Q. We are attempting to fabricate a part that uses brass and Aluminum components brazed together. The brazing part we think we have figured out, but we'd like to finish the parts so that they look uniform and have a consistent finished look. The parts are machined after brazing so the joint is expected to be seamless.

We have been told by the machine shop that it is not possible to Ni plate such a finished item because the baths that are used for the two materials are different. Is it possible to pre-treat the parts in such a way that they can be finished as a brazed assembly? We are looking for a bright finish of either Ni or Cr.

I saw in some other posts that to add a chrome finish Aluminum it must first be coated with zinc. Would that also work for brass?

Thanks
Peter Hardman
Design engineer - Waltham Massachusetts
---
October 2016
A. Hi Peter. Hopefully another reader can offer more encouraging news from their experience, but I find it hard to believe that you will get this to work considering the radically different pretreatments required for aluminum (alkaline etch, desmut, zincate immersion, nitric acid stripping) vs. brass (low caustic electrocleaning to avoid dezincification).
Sounds like a good application for "chrome-look" paint :-)
Regards,
Ted Mooney, P.E. RET
finishing.com
Pine Beach, New Jersey
Striving to live "Aloha"
---
January 2, 2017
A. Hello Peter,
I am not sure what type of brazing you have in mind, perhaps torch or dip? One possibility to explore would be to Sulfamate Nickel plate both brass and Al items prior to brazing. 200 µin. perhaps. This is a matte dull Ni, therefore, post-braze Ni phos may be employed for the desired shine. Leak check before and after Ni phos.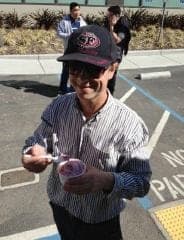 Blake Kneedler
Feather Hollow Eng.
Stockton, California
---
January 4, 2017
A. You could try a PVD finish over the part if you are using a high temp braze alloy. Even then, you'd have to do the deposition at very low temperature, but it should be possible to obtain a uniform finish. Durability will be an issue, as the PVD finish will likely be too thin to mechanically protect the two metals (or chemically).

One radical idea would be to PVD sputter deposit a layer of copper over both surfaces, then see if they can be nickel plated afterward.
Jim Treglio

- Vista, California
---
January 7, 2017
A. In this case I would suggest to use a conductive copper coating followed by the standard bright copper/Nickel process, that way the coating will be deposited evenly on the piece.
Marvin Sevilla
- Managua, Nicaragua


This public forum has 60,000 threads. If you have a question in mind which seems off topic to this thread, you might prefer to Search the Site