topic 60242
How to do matte anodize & mirror surface on same sheet (like iPhone 5)
August 2, 2016
Q. Is there any way to anodize a matte and a mirror surface together on one aluminum sheet? I am very interested on the iPhone5 back shell, which is anodized to matte white/grey for most of the area while the logo and the characters are mirror finished. How is this achieved on one sheet?
How is the matte part produced? Blasting before anodizing or etching during anodizing process?
How is the mirror part produced? Polishing before anodizing or after anodizing? Can such a mirror surface be achieved by anodizing?
Any answer or perspective is appreciated!
Dan Qiu
process engineer - Shanghai, China
---
August 2016
A. Hi Dan. Obviously it can be done because Apple's vendors are doing it. While we can't print anything that that isn't in the public domain about how Apple actually achieves it, we're all welcome to make educated guesses about how to get polished and matte surfaces on a single sheet ...
Because of the relatively fine detail desired in the mirrored areas, I would doubt that it's polishable after the matte process. My guess is the surface is mechanically polished, the logo area is masked, and the rest is etched, then the masking removed. It's possible, considering the high volume, that the masking is not photosensitive, but is patches of tape or perhaps permanent masking built into the fixturing.
Regards,
Ted Mooney, P.E. RET
finishing.com
Pine Beach, New Jersey
Striving to live "Aloha"
---
August 3, 2016
A. First thing you need to consider is the alloy you will be using for your product - not every alloy will retain the brightness of the polish after being anodized even for a short time (low thickness of the anodizing layer)

I have little experience with sheet alloys, I do mostly extruded stuff, and if you mirror polish 6061, it will remain pretty bright even when anodizing thickness is >20 micron, so will 2024 and 7075, 5754 (popular sheet alloy) to some extent, but 6082 with 100% certainty will become even dull matte at 20+ micron, below that you will see matte patches on it.

About getting the matte finish - if it low volume - mask off the mirror portion and glass bead blast everything else, remove mask, degrease, deox and anodize (avoid etching completely), bead blasting should be do with the appropriate pressure (4bar give or take), to avoid shattering and embedding glass into the aluminum - if you do this, the surface will become patchy-grayish when anodized (because of the embedded silicon)

For larger volumes - polish, mask off what needs to remain bright and then experiment with what sort of etching will make the surface matte enough without exposing the grain of the material too much, masking + vibro-tumbling may also work, usually coarse tumbled parts come out with nice even matte finish, you just need to find out which masking method will be able to withstand this process (same thing with alkaline or acid etching mentioned earlier)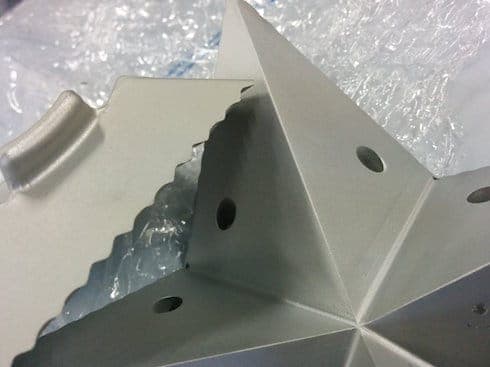 Here is a link to a picture - the part on the right is tumbled and anodized, left one - bead blasted and anodized, finish is very smooth and even matte quite similar to what you can see on apple products
Janis Z.
- Riga, Latvia
---
August 11, 2016
(apologies, not published until 11/15/16 -- Ted)
Q. Hi Ted, Janis, thanks for your valuable answers! It looks various ways to achieve the desired appearance. I come up with another question in reading the answers - besides the material (type of the alloys), if the processing(may inl. stamping, extruding,forging, CNC milling, die-casting, etc)of the aluminum alloy will impact the surface finish of anodizing?
For example, I need a anodized aluminum product which is highly decorative, which processing method(s) is/are better to get a consistent surface after anodizing(without considering the geometry)? And what defects may be found if go to other processes?
Dan Qiu
- Shanghai, China


This public forum has 60,000 threads. If you have a question in mind which seems off topic to this thread, you might prefer to Search the Site