Serious Education ... plus the most fun you can have in metal finishing.
PVDF coating PVC coated fibers
July 7, 2016
Q. Does anybody know what type of process is used in coating a PVC coated fiber with PVDF? Is it just a PVDF liquid coating that is painted onto the fiber? Or is it the same type of process that is used to coat the fibre with a PVC coating?
Anya Bezuidenhoudt
MEng student - South Africa
---
January 1, 2017
A. Hi Anya,
Typically, a similar process will be used. The fibers will be drawn into a jet or bath to apply coating!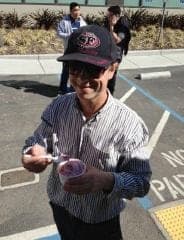 Blake Kneedler
Feather Hollow Eng.
Stockton, California