topic 6079
"Antique" Finishes for Iron & Brass Firearms
(2000)
Hi, I am interested in finishing techniques that are used to mimic age and wear. My particular interest is in replica firearms, and as I am a re-enactor, I would prefer to have guns that don't look "new".There are several companies offering finishes that are just essentially bare metal with some distressing. My interest is not in having a weapon that looks like it's 150 years old, but rather just"well used" - somewhere between "new & blue" and distressed white metal. The two common metals encountered are brass and steel. I suspect some of the techniques used to "fake" antiques would be applicable, but in my case would need to applied with considerably less gusto. I have spent some time observing what worn firearms look like, but I wondered if anyone had any specific suggestions about finishing techniques.
The only technical clue that I have been able to unearth was from an article on etching knives. The author stated that when the etchant had aged a bit beyond its useful life, it tended to create background pitting instead of a clean bite. Older guns that haven't spent their lives in a box exhibit this sort of pitting as well, but this is the only useful reference I've found. Thank you very kindly for any clues you can offer!
Gene Smith
having cowboy fits in Houston
Gene S
deleted
show business - Houston, Texas USA
---
(2000)
Depending on the size of your fire arm, you should look into mass finishing equipment using dry abrasive organic materials. This is the most common way to get an antique look to most hardware items.Normally, metal parts are blackened first then thrown into barrel or vibratory system with an organic and pumice. I handle an inexpensive premix, which consists of wood sawdust and a binder to hold the pumice to the wood. Any problems or questions, get in touch.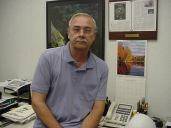 AF Kenton
Hatboro, Pennsylvania


This public forum has 60,000 threads. If you have a question in mind which seems off topic to this thread, you might prefer to Search the Site