World's #1 finishing resource since 1989
No login needed: Chime right in
topic 59985
Dissolve brass fitting out of stainless flange
August 24, 2015
Q. Hi, I have a ConFlat vacuum flange (stainless steel) that is tapped 1/16 NPT. While removing a brass fitting from the flange it snapped off! I tried a couple different screw extractors and also heated it to 350 °F while trying to back it out. All that happens is that I lose more thickness from the brass wall. I'm afraid to do more mechanical attempts and wondered if there was something that would dissolve the brass but leave the stainless intact? Speed is not an issue. Any ideas?

Thanks,
Corby Dawson
Scientific equipment restorer (Hobby) - Lompoc, California USA
---
August 31, 2015
Corby,
(adv)
Yes, I have a product for stripping copper off of stainless that ought to take care of that for you. Let me know if I can help.

Ray Kremer
Stellar Solutions, Inc.

McHenry, Illinois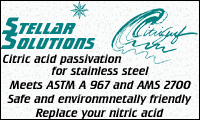 ---
September 2, 2015
A. Concentrated nitric acid might work. Or, perhaps, concentrated aqua ammonia, possibly with EDTA added. Might loosen it, at least.

Dave Wichern
Consultant - The Bronx, New York