World's #1 finishing resource since 1989
No login needed: Chime right in
topic 59965
Cathode/air agitator tubing combination design
July 28, 2015
Q. Learning to anodize. Have a decent set up that gets better every time I visit this site. My results are getting better too. Thanks.

Reading about air agitation; everyone suggests plastic tubing which would work fine but what if I combined the cathode and the air agitation system into one?

Use 6063 1/2"-3/4" o.d. tubing, form it into the appropriate size air system complete w/ the vertical snout and valve to attach pump/tubing. Weld on the lug for the negative clip and you're done. Of course I'd have to experiment w/ air hole size, location, quantities.

Heck, you could even pull the agitation air through a coil cooled in ice or in a fridge?

Seems like a good idea to me.

What do you all think?
sam jarvis
hobbyist - bath, North Carolina usa
---
August 4, 2015
A. In order to achieve even coating thicknesses, you'll want your cathodes on the sides of the tank, not the bottom. Also keep in mind the recommended cathode to anode ratio surface area of 3 (anode, or work) to 1 (cathode).

With that being said, what you describe should work OK, especially if you're anodizing on a very small scale. The bottom of your work will most likely get a higher coating thickness than the top, though, which could be noticeable if you're dyeing your work after anodizing.

To get you started on hole size, you don't want much bigger than 1/16", and for location, picture yourself looking at a clock, and compare it to looking at the end of your tube. You'll want 2 holes drilled around 5 and 7 o'clock (so the air is coming out downwards), repeat every 1" or so.

If you decide to go with the Al tube, I would first experiment with some pvc pipe to figure out your hole spacing for even agitation. For the best, most even results, you'll want your tube to go all the way around the ID of your tank, not just a little bar going right down the middle. And you'll want to make a loop, so that the end of your piping plugs right back into the inlet. Otherwise my experience has been that all the air pushes to the dead end, and your agitation is not even at all.

Finally, keep in mind that eventually you'll have to replace the Al tubing, it will erode over time. The reason most folks use pvc piping is that it's inexpensive to replace, and very easy to make differing configurations, just prime and glue.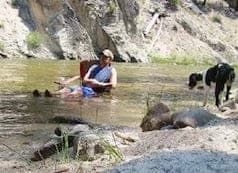 Marc Green
anodizer - Boise, Idaho
---
August 5, 2015
Q. Thanks Marc. I did some 'pre-answer' reading on this site and elsewhere. Everything I've read supports exactly what you said.

It seems that even if I moved the cathode air tube loop to the side & middle of my tank and perfected the hole size/spacing, the anode/cathode ratio would be excessive most of the time.

In that case, the question becomes ' would as much as a 6:1 cathode/anode ratio have negative effects '?

Even though the metal fabrication is no problem, it seems like this idea presents more problems than solutions. I should just stick w/ a properly sized cathode and run some PVC tubing.

Thanks again and I'll be seeing you.
Sam Jarvis
[returning]
- Washington North Carolina USA