World's #1 finishing resource since 1989
No login needed: Chime right in
topic 59921
Nickel growing from titanium anode baskets
June 23, 2015
Q. Hi,

I would like to share with you the problem with have experienced with the anodes in one of our Nickel Watts solutions.

We use pure nickel chips in titanium baskets, with double woven PP bag. They are immersed in the solution all the time, even when the tank is not running. That tank is round in shape with also round anodes ~3.5 m long, 12 cm diameter.

We found that the bags were failing in the sewing line, so decided to take them out from the tank and have a look. Last time it was done was ~6 years ago. I know this should be done more often, but the size of the anodes (3.5 m long x 10 cm diameter) makes the maintenance a bit hard...

After examining the anodes, we found a solid piece of nickel at the bottom side of some baskets, going in some places through the bags. For me it seems like if the nickel is building up from the inside of the Ti basket trough the holes and then through the bags ?
We also found nickel growing from the titanium bars which goes all along the sides of the baskets.
I have included some photo which should make easier to understand.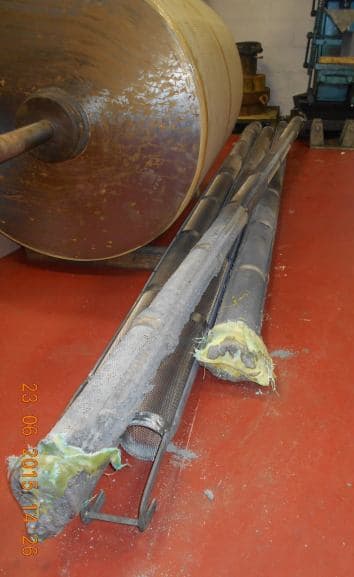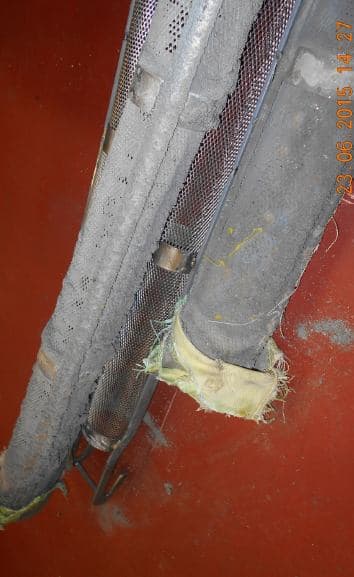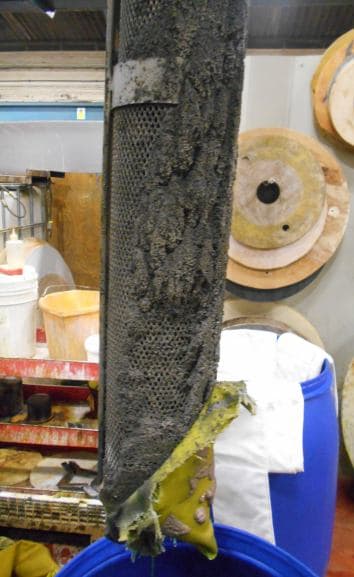 We will repair the baskets and change the bags, and will make maintenance more often, but I would like to know, for my own benefit, why this happened.
How do you think this solid piece has been formed?
How do you explain that nickel electroplated onto the titanium bars??
A bad contact that made the anodes to be cathode? It only happened in some anodes.
I know nickel sticks onto practically any material, but I cannot see a way that it can be electroplated onto titanium... form Watts nickel solution...

Any idea is welcome.
Thanks!
Regards,

Tomas
Tomas Hernandez-Selva
- Manchester, UK
---
July 1, 2015
A. Good day Tomas.

That is a very large anode at 3.5 M long. What is the anode material/composition? What is your anode ASF?
I have also experienced this.
Given the fact that maintenance has not been done in a six year period, I am suspecting that you are using S rounds, which does produce sludges/fines, and do accumulate/settle at the bottom/sides of the PP bag/anode basket.
I would like to suggest to use R rounds,as it does not produce sludges/fines during electrolysis.
Hope this helps.

Regards,
Eric Bogner
Lab Tech. - Whitby, Ontario, Canada
---
July 2, 2015
Q. Hi Eric,

Thanks for your reply.

We currently use pure nickel chips, but it is most likely that this buildup is coming from past times when we used S-nickel chips. Let's see what happens now with only pure nickel ...
Current density is around 40 ASF, but I don't understand why you are asking this.

Anyway, what is still not clear to me is how we got nickel growing from the titanium baskets and nickel electroplated in the outside of the bag...

Thanks.

Regards,
Tomas Hernandez-Selva
- Manchester, UK
---
July 5, 2015
A. It looks to me that you have stray, bipolar currents affecting the titanium baskets. This is probably promoted by conductive fines in the bottom of the anode bags, and by plating parts that are much shorter than the anodes in the same tank as the longer parts.
Lyle Kirman
Consultant - Cleveland Ohio
---
July 13, 2015
A. Hi Thomas,

1) If you do not do any maintenance to bags change, during plating anode dissoves and impurity in anode plugs up the bags. You need to change bags every year, not every 6 years.
2) The anode piece came out from the bag , because you have bipolar condition happen in your nickel bath ,part stuck with bag and bag torn then make a hole in bags. I look the picture of the bag , I think ,it is very bad condition of the bags.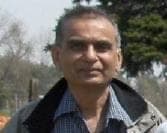 Popatbhai Patel
finishing shop - Roseville, Michigan