World's #1 finishing resource since 1989
No login needed: Chime right in
topic 59900
Wax Finish for Exposed Steel I-Beam
June 12, 2015
Q. I am currently remodeling a home. As part of the remodel, we have installed some structural steel I-beams that will be left exposed. They are new beams that had plates welded onto the ends for tying into the existing wood structure. Because of the welds and some limited weather exposure, the current finish is a combination of clean welds, very light rust and original "mill scale".

I would like the final finish to be more of a blackened, raw steel look (not painted). I really like the look of blackened & waxed cold rolled steel. I have looked at different products at Sculpt Nouveau, but am a little stumped on how I should prep the steel. I'd rather remove the rust (but a little remaining rust wouldn't be the end of the world). At the same time, I don't want to start abrading the surface and introducing scratches to the surface. Would a scotch-brite type pad do the trick? Or, is there a better, chemical approach that I could use to clean things up?
Trevor M
Homeowner - Steamboat Springs, Colorado, USA
---
June 13, 2015
A. If you mean to remove the rust, mill scale and weld discoloration, it's going to be a big, messy job.

You might consider a lighter cleaning, just to remove the loose stuff, and then paint as best you can to imitate the finish you want. A decent paint store should be able to supply any gloss and color you can dream up.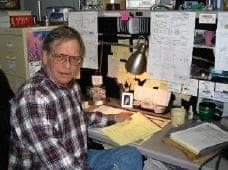 Jeffrey Holmes, CEF
Spartanburg, South Carolina