World's #1 finishing resource since 1989
No login needed: Chime right in
topic 59886
Solder joints corroding and leaking at elbows in copper hot water plumbing lines
June 1, 2015
Q. I'm a residential contractor. I have a house we restored/renovated for 7-8 years. The renovation started in 2006. It is a three story 7,500 sq ft house.
The solder joints at the elbows on the third floor hot water lines are corroding and starting to leak. There is a circulating pump on the system and the hot water lines also run through a geothermal AC/heat unit that has a heat exchanger that warms the water in the cooling mode. The owners moved in the house about 4-5 years after the start of the renovation and 95% of the copper water lines were replaced during the renovation but some pipes basically sat for 3-4 years before they were used on a constant basis. The corrosion is green and white on the outside of the pipe but the copper has turned black also at the corrosion areas. Some of the copper has corroded away on the outside and the copper has turned a red color in those areas. Not every elbow has corroded it appears to be random. The cold water piping does not appear to be affected from what we can see. It does not happen at couplings where two lengths of pipe are joined together. The copper water system everywhere else seems to be a normal copper patina where the copper has just darkened to a light brownish color.
The heat exchanger in the geothermal system stopped working a year or 2 ago and was replaced. Not exactly sure of the date. The geothermal contractor says this is not a possible cause of the corrosion but I don't know enough about them to know. Is it possible for y'all to test the copper pipe to tell what is causing the solder joints to corrode? I have attached some pictures of some of the elbows we have replaced.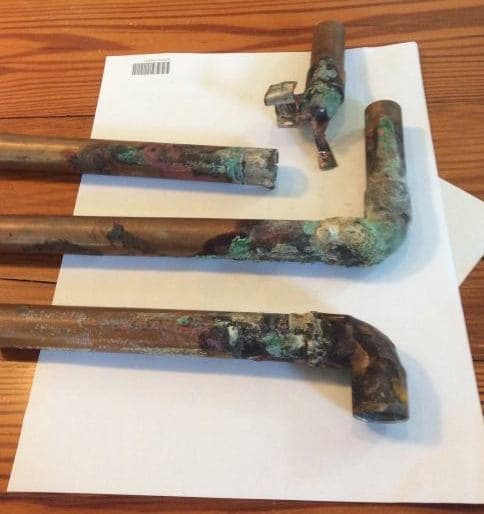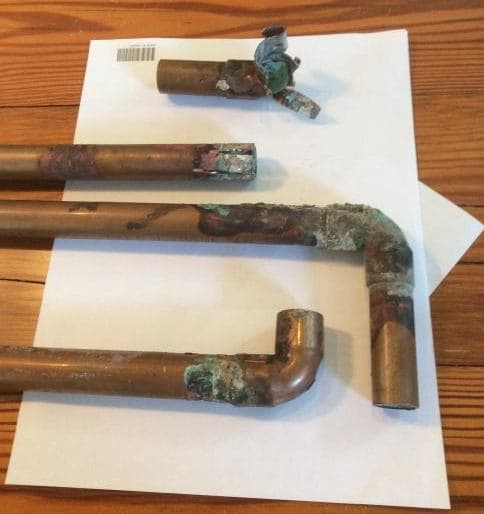 Has anybody seen this before? We are having the water and pipe tested but it will be a couple of weeks to get the results.
John Witherspoon
- New Orleans, Louisiana , USA