World's #1 finishing resource since 1989
No login needed: Chime right in
topic 59866
Want to dissolve broken steel bit in stainless steel part with nitric acid
May 5, 2015
Q. I need to remove a steel drill bit that is broken off in a larger stainless steel clevis pin. The bit is broken just inside the stainless and unfortunately was the start of a removal effort, so I am stuck working with the pin where it is (stuck in the machine, of course). I want to use HNO3 to dissolve the steel bit.

I am wondering if an acid bath could be used, and possibly accelerated by passing DC current through the broken bit. I would build a reservoir and seal around the drilled hole with RTV silicone, fill with HNO3, and connect a DC source to the back of the pin (accessible) and to a stainless electrode in the HNO3 solution. I am not sure which direction to send the current.

I'd be grateful for any suggestions.
Steve Fisk
amateur - Valencia, California, USA
---
May 6, 2015
A. Seems like the bit to be dissolved should be the anode?
Steve Fisk
[returning]
- Valencia, California, USA
---
May 7, 2015
A. Citric acid would be safer to work with and will still attack the tool steel without affecting the stainless.

Electricity seems like it should be more of a last resort here, acid alone ought to do fine, but if you end up doing that, you want the metal connected to the positive (+) lead with the negative (-) lead accessible to the drill bit through the electrolyte solution or a sponge/cloth/etc. that is damp with electrolyte solution.

Ray Kremer
Stellar Solutions, Inc.

McHenry, Illinois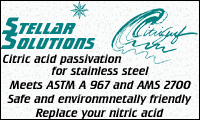 ---
May 31, 2015

Thank you Ray. I'll reply with how it goes.

Steve
steve fisk
[returning]
- Valencia, California, USA