World's #1 finishing resource since 1989
No login needed: Chime right in
topic 59727
Touch-up of 304SS pre-polished tube changes tint from yellow to grey
October 23, 2014
Q. Hello,

We are a manufacturer of decorative hardware, and we use a large amount of pre-polished stainless tube. Specifically, we use a lot of 304 tube that is pre-polished from the mill to a #4 or 180-240 grit. (It is one of the biggest, international stainless tube mills.)

Although we are very good at receiving, storing, and handling of the tube, scratches and other minor superficial defects inevitably occur. Over the years we have developed some pretty good techniques for polishing out the defect and blending in the grain so that from a texture and grain-appearance stand point it is a very good match to the original, surrounding tube.

However, our issue is with the color change in the polished areas. The tube comes to us with a slight yellow tint/tinge to it, but after we polish it the yellow tint is gone and it appears much more gray (non-yellow) compared to the surrounding areas.

I called the mill directly (the local distributor) and their technical rep said that he was "not aware of a yellow tint", so getting more information directly from the mill seems to be a dead end. So, I did some research online and have found several sources that confirm that 304 will have a yellow tinge due to the Nickel content.

My first question is this:
Is it true that 304 will commonly have a yellow tinge, due to the Nickel? Other ideas that I have considered were that maybe the yellow was a heat-tint due to the polishing (which seems unlikely unless they are dry-polishing round tube??), or that it was some type of chemical reaction with their coolant during polishing, or that it could be due to passivation (do mills passivate their polished tube?), or that it could be a secondary process that they do to MAKE it appear yellow (not sure why they'd do that), or that the yellowing could be something that happens to it after production.

So, is it common for 304 to be yellow, and why?

My next question is this:
Why does our polishing remove the yellow tinge? If the yellow is due to Nickel (or any other chemical make-up in the material) then why would scratching the surface cause such a drastic color change? You'd think it would be the same color throughout the metal.

Lastly:
What can we do about it? Use some type of chemical during or after polishing? Or use a different abrasive? (We use AlOx.) Or some other technique? I'm at a loss.

I really look forward to your expert advice. I hope you can help!

Thanks,

Mike
Mike Smith
Fabricator / Manufacturing - Macon, Georgia, USA
---
November 6, 2014
Q. Hi Folks,

Just wondering if anyone had some ideas on this. I was thinking maybe some of the passivating or stainless restoring people could help. (Stellar, Restore-It-Yourself, etc.)

Or maybe it is more of an alloy/chemistry question or a polishing question?

Even an educated guess would be helpful! As of now I can't think of anything to try.
Mike Smith
[returning]
Fabrication / Manufacturing - Macon, Georgia, USA
---
November 10, 2014
A. Mike,
You certainly have me baffled. I've never heard of 304 or any other grade of stainless be referred to as yellow. As you said, it's clearly not inherent to the alloy since your re-worked areas don't match. No doubt it's something the mill is doing that they aren't even aware of. Have you shown them any photos of the original yellow vs. re-worked gray areas?

Ray Kremer
Stellar Solutions, Inc.

McHenry, Illinois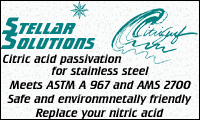 ---
November 12, 2014
A. I too never heard of yellowing of SS. Can't help you with specifics, but have you tested the air in your storage facility? Weird things happen over time.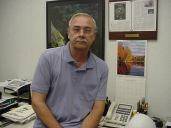 AF Kenton
Hatboro, Pennsylvania
---
November 14, 2014
Q. Thanks for the feedback.

I haven't had any luck working directly with the mill. It would be the best approach of course, but they are a huge, international corporation and 1) Their front line reps haven't got a clue (they tell me only someone in Taiwan would have the answer) and 2) They refuse to speak to any end users - I must go through my distributor. I would be a long and difficult road with many middle-men in between. And there would be no certainty that I'd find an answer at the end of the road. So, that's why I posted here, really hoping that someone will have some insight.

In regards to the color, I would not describe it as "yellowing". It does not change color in our shop. Even tubes that are over 2 years old have not changed color - they are exactly the same yellow tint as the day we received them.

I'm not sure about you guys, but I have always noticed that 304 has a yellow tint when compared to carbon steel, such as 1018. For example, we use a lot of 304L flat bar and it always arrives with the same yellow color as the tube in question. But with the flat bar, it remains the same yellow color after polishing. (As expected!) The issue here is not that this tube is yellow, but that it loses its yellow tint upon polishing.

I have found many articles online stating that 304 (nickel containing) stainless will have a yellow tinge. Here is one:

From http://www.bssa.org.uk/topics.php?article=48

"The ferritic steel can have a blue tinge, whilst by comparison, the nickel containing 304 has a slight yellow tinge."

(Conspiracy Alert: What if the mill is actually producing tube with very little nickel, but they are "coloring" it to make it appear a normal 304 color? Ha ha.)

-------------------------------------------------

A picture is worth a thousand words. I have attached a photo showing exactly what I'm talking about here.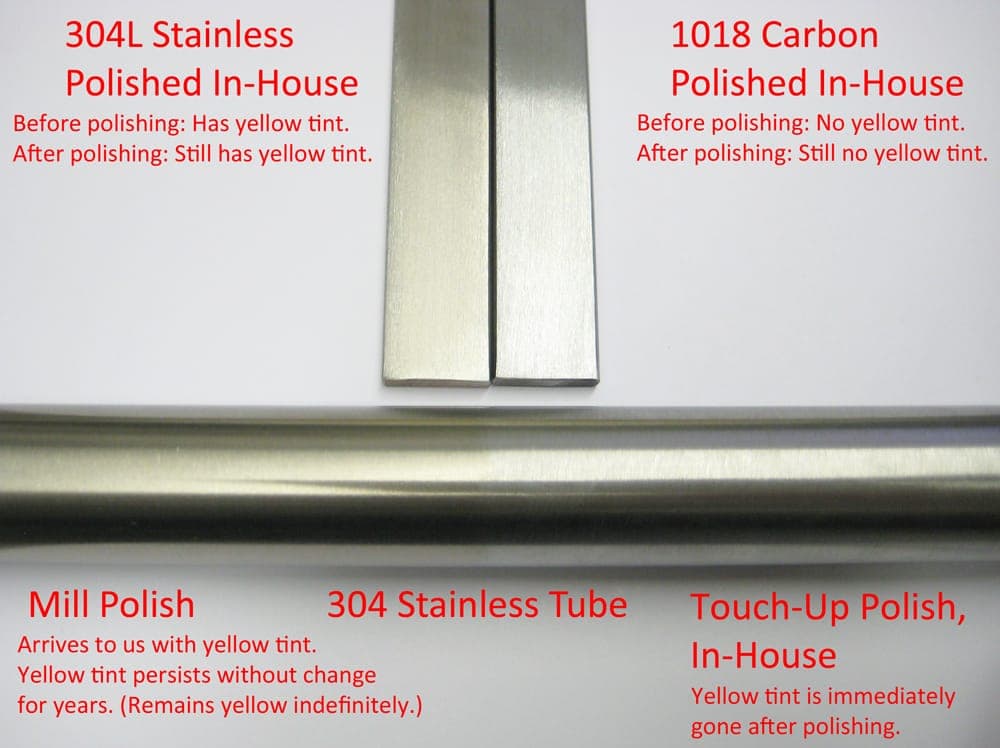 I hope this helps!
Mike Smith
[returning]
Fabrication / Manufacturing - Macon, Georgia, USA
---
November 25, 2014
Q. After seeing the photo, can anyone make sense of this?

Is the only explanation that there is a surface coloring or tint of some sort?

Any why wouldn't the metal beneath the surface have the normal 304 yellow tint that remains after polishing 304 bar, etc.?
Mike Smith
[returning]
Fabrication / Manufacturing - Macon, Georgia, USA
---
December 8, 2014
A. I've looked at the visuals and am probably as confused as everyone else. If this is a big problem with your company, I suggest you eliminate possibilities. Meaning, you can get a chemical analysis of what you have and see if it conforms to mfg. specs. If that fails to uncover problem, then try buying raw material from another vendor/mfr, then look at transportation possibilities for contamination and again at your location.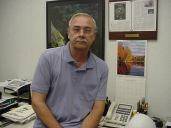 AF Kenton
Hatboro, Pennsylvania
---
December 16, 2014
A. Mike,
I've shared your question with Lee Kremer here and he says he has sometimes seen this yellowish tint on 304. He offers the possibility that the surface texture might be causing some kind of yellowish reflection, which would fit with the tint going away as the surface is changed when you repolish. This is only a hypothesis, but it is true that interesting effects can arise from specific diffraction and scattering of light due to the topography of the surface. He suggests looking under a microscope to see what the two stages (before and after repolishing) look like. I have also seen "dark stains" reveal themselves to just be an effect of surface texture with no real color difference under magnification.

Also, if it IS some kind of oxide on the surface, passivation should remove it.

Ray Kremer
Stellar Solutions, Inc.

McHenry, Illinois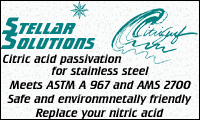 ---
December 16, 2014
Q. Thanks Ray, I think you might be on to something. Certainly your hypothesis would make the most sense (from an Occam's Razor point of view).

What exactly should I look for in a microscope and what level of magnification do you recommend? I don't have a microscope myself so I'll probably have to send a sample off with instructions on what to look for.

It might be nearly impossible for us to polish the tube exactly the same way as the mill, but at least it would be nice to know if this is the issue. Speaking of optical illusions caused by substrate topography, we have discovered with powder coating that a textured part (say cast iron for example) can appear much glossier than a smooth part. It's just an illusion based on the refraction(?) of the light and there isn't anything you can do about it.
Mike Smith
[returning]
Fabrication / Manufacturing - Macon, Georgia, USA
---
January 6, 2015
A. Mike,
Just a basic 30x or 40x optical microscope ought to be fine, I can usually make out surface texture fairly well with that. Of course a good lab or university metallurgy department has much better than that available too.

Generally if I have a dark spot on a piece of stainless, under the magnification the spot looks the same color, but rougher. I think if the yellow goes away at magnification but the texture is noticeably different, then that's your culprit. Might be worthwhile to also have them look at your 304L before and after in-house polishing samples to see how those compare to the 304 tube.

Ray Kremer
Stellar Solutions, Inc.

McHenry, Illinois