World's #1 finishing resource since 1989
No login needed: Chime right in
topic 59698
Stopping corrosion of brass
An ongoing discussion from 2003 through 2015 . . .
2003
Q. I'm in the Navy and we have this brass capstan, (augments pulling lines) that is on the weatherdecks, exposed to rough marine atmospheric conditions. We shine it daily but everyday it corrodes. Is there anything that I can do to prevent this corrosion such as applying silicone? We are not allowed to wrap it up to keep the weather off. Any suggestions?
Tired of shining.
Vernon D
[last name deleted for privacy by Editor]
- San Diego, California, USA
---
A. Hi Vernon. Sodium benzotriazole is a copper/brass preservative that in good conditions can greatly retard corrosion; in your marine exposure it should at least somewhat forestall corrosion and reduce the need for polishing. You can search this site or others for further info on benzotriazole.
Beyond that there are many clearcoats that might help, the three most obvious probably being brass lacquer (easily removable with acetone or lacquer thinner), two-component automotive clearcoat (more durable but harder to remove if you don't like it), and car wax or museum wax.
adv.
Please see G.J. Nikolas [a finishing.com supporting advertiser] for brass lacquers, or Everbrite [a finishing.com supporting advertiser] for their one-component clearcoat for metal.
Luck and Regards,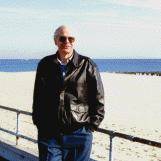 Ted Mooney, P.E.
Striving to live Aloha
finishing.com - Pine Beach, New Jersey
---
---
Corrosion of brass connected to cast iron
2003
Q. I am going to thread a brass pipe into a cast iron tank filled with water.
What is the risk of serious corrosion?
jim swimmer
metal sculpture - Highland Park, Illinois, USA
---
2003
A. If we are to assume this tank is a sculpture, and it's indoors, and failure of the fitting is an aesthetic issue rather than something that would drown someone or flood a city, I don't think I'd worry much. Although it's not good practice because of galvanic compatibility issues, copper/brass to steel pipe connections are fairly widely done. If it's outdoors and the water in the tank is salty, I'd be less confident. If pipe sealant or teflon tape actually prevents the brass from touching the iron, you won't have any galvanic circuit.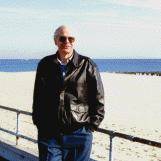 Ted Mooney, P.E.
Striving to live Aloha
finishing.com - Pine Beach, New Jersey
---
2004
Q. Is it necessary to dielectrically isolate a brass valve from steel piping?
Thanks
Rumen Pavlov
Investments - Sofia, Bulgaria
---
A. Hi Rumen. It's clearly ideal to dielectrically isolate them because that completely stops galvanic corrosion, but galvanic corrosion is not always a significant issue, especially indoors or in dry locations.
Regards,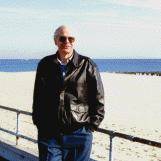 Ted Mooney, P.E.
Striving to live Aloha
finishing.com - Pine Beach, New Jersey
---
---
Strange corrosion of bronze or brass figurine
September 10, 2014
Q. Could you please assist in resolving a difficult issue -- corrosion of bronze (or brass) figurine. Unfortunately, we are not having much support from the original item manufacturer. We are not sure what exactly the material, but it is obviously some copper alloy.
The 1 m tall figurine is covered by (nitro-cellulose?) lacquer but in 3-4 spots, less than 1 mm in diameter, constantly appear white growth, powdery to touch, at times with little droplets of some liquid.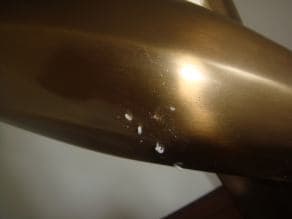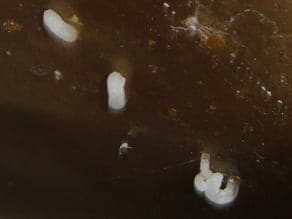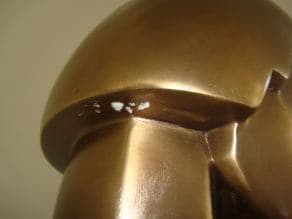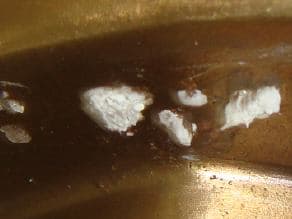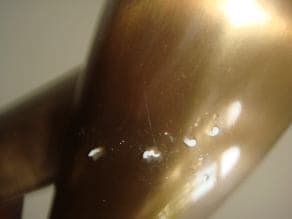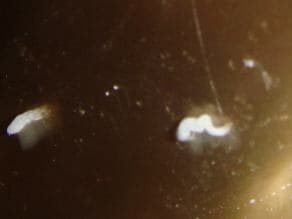 We tried washing the spots with water or alcohol (as advised by various experts) but nothing helps.
Can you please help.
Thanks in advance,
Vladimir Lipovetsky
Melbourne Australia
---
September 11, 2014
A. Try to find professional metals conservator -- try
www.aiccm.org.au/conservation/thinking-conservation/australian-conservation-organisations
-- Hope it helps and good luck!
Goran Budija
- Zagreb,Croatia
---
A. Hi Vladimir. If the object is of any value, I agree with Goran that professional investigation and ameliorization is called for. The white corrosion suggests that the article may be zinc with brass/bronze plating rather than solid brass/bronze. I've never seen those "worms" though. Perhaps the casting was not really dry before plating and/or lacquering?
Regards,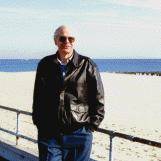 Ted Mooney, P.E.
Striving to live Aloha
finishing.com - Pine Beach, New Jersey
---
---
January 18, 2015
Q. The brass object in the attached photo was given to me when I was a child in the 1960's. In recent years it has stayed in the leather bag shown in a drawer in my house. I have used polish on it once or twice. When I took it out recently, I found the shown corrosion.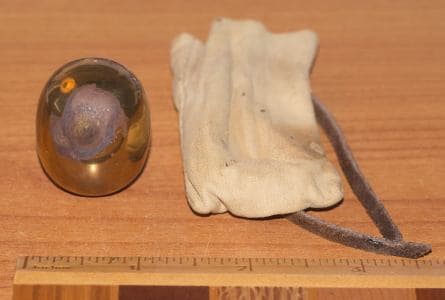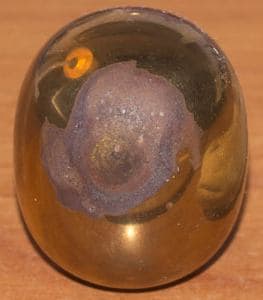 What could have caused this, and is there any practical way to resurface this?
Alan Achor
- Sunnyvale, California, USA
---
January 2015
A. Hi Alan. The very distinct and crisp outline of the damage doesn't look like corrosion usually looks -- that tends to be more diffuse rather than sharp lines of corroded vs. non-corroded.
Have any kids in the house, especially boys? :-)
That object looks like it might be cast iron with an outside layer of brass or nickel & brass plating. That kind of plating can flake or break off, especially if the object hit the floor, but there should be large flakes of the plating around, they wouldn't disappear.
What is that 3rd object in the photo?
Regards,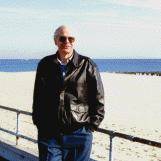 Ted Mooney, P.E.
Striving to live Aloha
finishing.com - Pine Beach, New Jersey
---
January 19, 2015
Q. There are no children in the house, and to my knowledge, the object has never been dropped, or roughly handled. It has stayed in the little leather bag shown on the right of photo. Note the bag has discoloration and wear which might be related to this problem. A ruler is at the bottom of the photo to show scale. I'd like to get it refinished, if practical.
Alan Achor
[returning]
- Sunnyvale, California, USA
---
February 10, 2015
A. One thought - it could be dezincification of the brass. Under some circumstances zinc can be dissolved out of the brass to leave a spongy copper deposit. This is quite common in some types of potable water, but can also occur with alkalis such as sodium hydroxide and ammonia. It is also possible it could occur with polish if it is left on the brass for too long (probably months not hours!)

Trevor Crichton
R&D practical scientist
Chesham, Bucks, UK