World's #1 finishing resource since 1989
No login needed: Chime right in
topic 59662
White Powdery Residue on Cad-Plated Hardware - How to Address?
July 7, 2014
Q. Hello. We have been experiencing a cadmium corrosion issue on "some" of the aerospace product that we deliver to a customer in Japan. The particular product consists of fasteners that are cad-plated per AMSQQP416 [affil. link to spec at Techstreet], Type II, Class 2. They are installed into an aluminum framework that is anodized per Mil-A-8625 [link is to free spec spec at Defense Logistics Agency, dla.mil] Type 2B Class 1, then painted with an epoxy primer per Mil-PRF-23377 [link is to free spec spec at Defense Logistics Agency, dla.mil] Type I and a polyurethane topcoat per Mil-PRF-85285 [link is to free spec spec at Defense Logistics Agency, dla.mil] Type I.
These assemblies are packed into a wooden crate and shipped, by ocean freight, to Japan. When the customer opens the crate, all of the fasteners are covered with a white powdery residue. We had some of these fasteners analyzed by a 3rd party materials test lab, and they concluded that the residue was a by-product of the cadmium being attacked by the elements. They also confirmed that there was no corrosion observed in the base metal. They indicated that this is often associated with exposure to a humid and/or salty environment (like the ocean...and Japan for that matter!).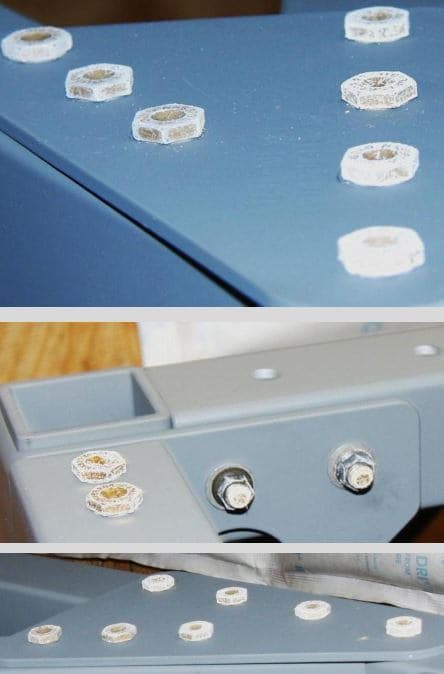 Our first thought was to try to reduce the amount of "breathing" within the crate. So we applied caulking to the inner corners and joints of the crate to slow this occurrence. We also added large desiccant strips to aide in absorbing the amount of moisture inside the crate. Unfortunately, this effort appears to have worsened the effects of the corrosion. Are there any suggestions that we could try to eliminate the corrosion on this hardware? For reference, we use this same type of cad-plated hardware on many of our other products that are also shipped to the same customer. These other items are wrapped in foam sheeting for protection and packed into wooden crates as well. Many of them include the same primer and paint as well, but there are NEVER any issues with corrosion on the cad-plated fasteners in these assemblies. Any insight and suggestions are greatly welcomed. Thank you!
Michael Miller
Sr. Quality Engineer - Goldsboro, North Carolina
---

July 13, 2014

A. Obviously there are problems on the cadmium plating line. Quality chromated cadmium will withstand the temp and humidity cycles of going thru the Panama Canal. Recommendations: (1) Do more rinsing up/down/in/out. (2) Spend more time in the acid pre-dip to clear the burrs made by the stamping of the lettering and to rinse inside the deep recess. (3) after cadmium plating dip in a fresh 1/4%/vol nitric acid dip to kill the cyanide (4) be sure the chromate solution is at the right concentration, pH, and purity.

Robert H Probert




Robert H Probert Technical Services





Garner, North Carolina






---

July 14, 2014

A. Hi Michael,

You have come across a classic problem with cadmium. It isn't the atmosphere that is the problem, it is the wooden container. The cadmium is susceptible to corrosion from the saps of certain woods. It is also susceptible to corrosion from the outgassing from things like MDF, chipboard and plywood, related usually to the adhesive used.

You have two options, firstly change from wood to plastic, or secondly fully isolate the part from the box (heat sealed bagging is the usual option).

Brian Terry




Aerospace - Yeovil, Somerset, UK




---
July 2014
!! Readers: Robert and Brian have offered excellent answers for Michael's problem, addressing both the process and shipping issues. Those three people know the following, but I note it for newcomers who are trying to learn by following these threads: cadmium plating is rarely an acceptable solution today because of its bioaccumulative toxicity (like mercury and lead). Its use is pretty much limited to legacy aerospace applications.
Regards,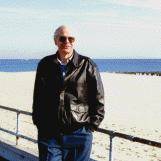 Ted Mooney, P.E.
Striving to live Aloha
finishing.com - Pine Beach, New Jersey
---
July 14, 2014
Q. Robert,
Thank you for your response and it is great to receive a response from a fellow Carolinian from only a few miles down the road! Since we are not the cad plater for these fasteners (we purchase all standard hardware), the plating specs are beyond our control. From the analysis that we had performed on samples of the hardware (corroded and new) the lab confirmed that the plating met the thickness requirements of the Spec, but that is really all that was concluded with respect to the condition of the plating. As a note, and I intended to mention this initially, we have seen this occurrence on various plated hardware (bolts, nuts, washers, hinge pins, rings, etc.) that were received from different vendors and at vastly different periods of time. For this reason, it would seem that our issue is perhaps not directly related to a particular vendor, batch, etc., but may be more attributed to the packaging conditions that Brian mentioned.

Brian,
Thank you as well for your response. At this point, I am tending to lean in the direction you have noted - where our packaging inside a wooden crate is a chief contributor. I did, however, notice that the AMS-QQ-P-416 spec has a "packaging limitations" paragraph that advises against packaging cad-plated items in non-ventilated containers. I am curious, since our initial trial to "seal" the container made the condition worse, might we be better served to conduct a trial with vents added to the container? Maybe this would facilitate better escape of any associated gassing and reduce the amount of white rust? Thoughts?
Michael Miller
[returning]
- Goldsboro, North Carolina, USA
---
July 15, 2014
A. Hi Michael,

Over the years I have come across this problem with both vented and non-vented wooden containers. Venting will certainly help, but will not solve the problem. To me I think you need to isolate the parts from the wood. The easiest way to do this is by heat sealed bagging, this way there is a physical barrier between the corrosive elements and the parts. Ideally you would want to move away from wood altogether if possible.
Brian Terry
Aerospace - Yeovil, Somerset, UK
---
July 14, 2014
A. Michael,

This problems on the cadmium plating line is occurring due to improper rinsing.

Recommendations:

a. After plating do drag out, Rinsing, Rinsing, Hot water rinsing then Nitric dip .....

b. While rinsing agitate manually up/down/in/out to remove the cadmium solution residues on the components.

c. Put the components in hot water for about 10 to 15 minutes or until the micro residues or traces are removed from the job.

Regards,
Surya Narayana
Process Engineer - Tumkur , Karnataka , INDIA
---
July 2014

Hi Surya and thanks. It's certainly possible to improve rinsing to create a more robust finish but Michael purchases these fasteners and the packaging seems at this point to be the biggest issue.
Regards,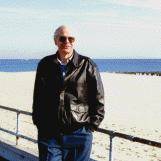 Ted Mooney, P.E.
Striving to live Aloha
finishing.com - Pine Beach, New Jersey
---
July 15, 2014
Q. Thanks again for the responses. Each time I read the responses and reply, I think of additional info that is pertinent to this challenge. While I do see that changing completely from wood container to plastic would be favorable, I should mention that the largest of the items that we are having this issue with is on the scale of 11 ft. W x 4 ft. H x 6 ft. D. Therefore, you can imagine that this requires a very large container and thusly would require a very large plastic bag. We are questioning whether there may be an option to treat the inner surfaces of the crate in a manner that would create a barrier to protect the contents from the effects of the wood. Perhaps some kind of paint or other product? Maybe a heavy mil plastic sheeting draped over the inside walls and across the floor, along with a second plastic sheet laid across the top, prior to installing the top crate panel? This wouldn't be air tight, but maybe sufficient to prevent the condition from occurring during the expected time in transit. Given the nature of the product, I don't feel that a plastic container is a feasible option and so any secondary treatment to the crate might be our best next step. Thank you in advance for any suggestions!
Michael Miller
[returning]
- Goldsboro, North Carolina, USA
---
July 16, 2014
A. Hi Michael,

Coating the internal surfaces may be a possibility, it's all about putting a barrier between the vapors and the box, so the coating would have to be impermeable.

One possibility would be to use VpCI (Vapor Phase Corrosion Inhibitor). The company that manufactures the product have a line of suitable inserts for boxes. I have used this only under laboratory conditions successfully, so you will have to test it to see if it is effective for your application.

And I concede, a bag may not be the most practical for your large parts...
Brian Terry
Aerospace - Yeovil, Somerset, UK