World's #1 finishing resource since 1989
No login needed: Chime right in
topic 59660
Assessing a Site's Corrosive Potential
July 12, 2014
Q. My company has been emplacing systems in the US for many years. We are now starting to go to countries that have significantly different climate. A concern is that the systems will be placed in environments that exceed design criteria. I will have maybe 5 days to review a site. Our site assessments look at mechanical and electrical parameters for the site, but not corrosive potential (for example near salt water or not).


I am interested in finding information on what testing or assessment criteria should be used to determine the corrosion potential at a site.

Thanks in advance.
Russell Dickson
Quality Engineer - Burlington, Vermont
---
July 31, 2014
A. Russell,
What alloys are involved in your systems? We generally recommend to our customers that they never make any guarantees on the corrosion resistance of stainless steel as they have no control over the customer's environmental conditions and/or other abuse the customer may accidentally or unwittingly inflict.

Proximity to a saltwater coastline is a big factor, yes.

Ray Kremer
Stellar Solutions, Inc.

McHenry, Illinois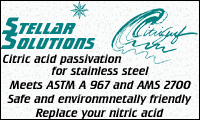 ---
August 4, 2014
A. Should your organisation venture into Australia, there was a very comprehensive nationwide survey conducted by Industrial Galvanisers & the CSIRO over many years.
They used the Electrical Transmission Towers situated throughout the Country and assessed corrosive effects on these galvanised structures.
This resulted in a map of corrosive effects Country wide.
Some of the results are quite surprising considering the environments of this quite large continent.
These results can be accessed via the ww2.ingal.com.au files website.
Hope this helps,
Regards,
Bill
William Doherty
Trainer - Newcastle, NSW Australia