World's #1 finishing resource since 1989
No login needed: Chime right in
topic 59636
Iridite, Cromak or other Coating on 1943-Denver Mint Wheat Cent?
June 2, 2014
Q. Hi, I am a coin collector and have a question regarding the possible use of a Chromate Coating, believed to be in the form of either Iridite or Cromak, coated to a 1943-Denver Mint Wheat Cent.

During 1943, the US Mint is reported to have experimented with coating Iridite and Cromak on a small number of 1943 zinc plated steel Wheat Cents. The image posted with this question shows a 1943-D steel penny coated with a gold/yellow appearing substance.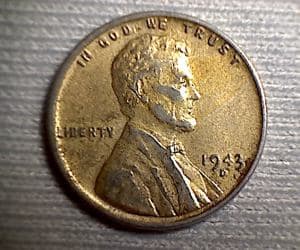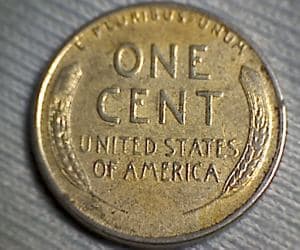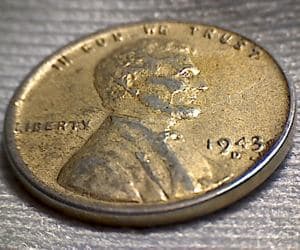 Does anybody with expertise in the Chromate Coating Industry think that this coin, based on appearance, has been coated with a Chromate Coating and, if so, could you provide an opinion as to whether you think it is an Iridite or Cromak coating. Ultimately, I would have to have a metallurgical test performed on this coin to determine if has chromium present, but before I take that step I wanted to seek expert advice.

Additionally, does anybody know if it is possible to coat Iridite or Cromak to a stainless steel penny without it being plated with zinc? Thank you for your advice in this matter.
Nicholas Auricchio
Coin Hobbyist - Syracuse, New York, United States