World's #1 finishing resource since 1989
No login needed: Chime right in
topic 59632
Benrus USA Military Watch finishing: Parkerize versus Passivate ?
May 27, 2014
Q. Dear Finishing.com readers,

As a gift with historical significance to me, my wife recently gave me a 1979 military watch known as a Benrus MIL-W-50717 Type II Class A or known in short as a Benrus Type II.

Unfortunately after taking it to my watchmaker for a simple movement service he decided to do me the "favor" of sandblasting this steel case. Now I'm in the position off attempting to restore this case to its original glory as the sandblasting gives the incorrect matte appearance as it is much more bright in color than the original process and finishing.

In the military watch enthusiast community it appears there is much debate on whether or not this watch is Parkerized versus Passivated.

I'm looking to find out a few answers:
1) Is it possible to Parkerize stainless steel? (Unfortunately I have not been able to find the grade of SS this case is)
2) Considering the time period of this watch being in the 1960s and 1970s and the scenario which is the more likely process used in the USA?
3) Are there companies or specialists that may be able to recreate this type of finish?

Here is the typical appearance of this case, my watch before blasting, and mine after blasting: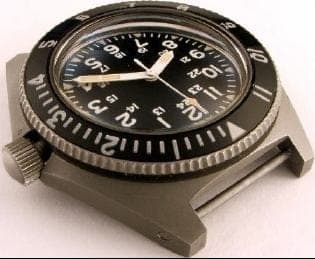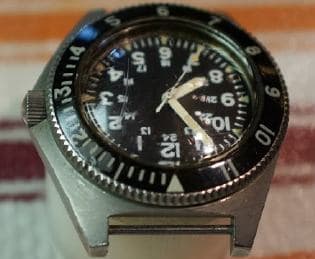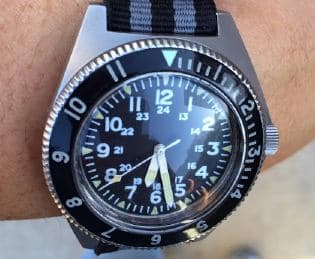 Many thanks in advance for your thoughts on this.
Vinh Nguyen
Watch builder and hobbyist - Houston, Texas, USA
---
June 12, 2014
A. To answer your main question first, let's look at what wikipedia says about Parkerizing:
"Parkerizing, bonderizing, phosphating, or phosphatizing is a method of protecting a steel surface from corrosion and increasing its resistance to wear through the application of an electrochemical phosphate conversion coating. ... The Parkerizing process cannot be used on non-ferrous metals such as aluminum, brass, or copper. It similarly cannot be applied to steels containing a large amount of nickel, or on stainless steel."
If it's stainless, it's passivated. Or at least should have been.

Now, on the matter of surface finishes. The color, luster, shininess, etc. of a metal surface is highly dependent on the surface texture and how it reflects and/or scatters light. Being passivated or not generally has no effect on this (though in the old days with nitric acid, sometimes the passivation bath was allowed to do a light etch on the surface). Sandblasting produces a fairly uniform but microscopically rough surface, which scatters light quite well. For a watch body like that, I imagine it was machined from a small block of steel and just left as the original machined surface. I'm not sure of the best approach at this point. Electropolishing would take you in the wrong direction, you don't want it that shiny. Maybe some buffing or manual polishing with a cloth and abrasive slurry.

Ray Kremer
Stellar Solutions, Inc.

McHenry, Illinois