World's #1 finishing resource since 1989
No login needed: Chime right in
topic 59595
Imaging art onto steel for exterior location
April 16, 2014
Q. Hello;

We are developing an interpretive art piece for an exterior location. Is there a way to image steel (weathering or mild) that will be enhanced with oxidation and not disappear?

We are investigating laser (CO2) etching and have an engraver willing to give it a try though he has not done it before.

Sandblasting may work but it may not be deep enough.

CerMark probably won't work for obvious reasons.

Any insights or tips will be most appreciated.

Thanks,
Chris
Chris Au
Designer - Vancouver, BC, Canada
---
April 29, 2014
A. Chemical etching IS the way. It will reproduce any design no matter how large or small, coarse or fine with full control in depth and if the steel surface is protected from later exposure to severe environments, it will stay there indefinitely.
Guillermo Marrufo
- Monterrey, Nuevo Leon, Mexico
---
April 29, 2014

Thank you Guillermo. I will follow up on that.

Q. It appears that chemical etching is mostly appropriate for small scale items. The projects I would be involved with would be larger and may require etching perhaps .125" deep into .25" plate.

Here is a pic to give a sense of scale.
Chris

Chris Au

[returning]




- Vancouver, BC, Canada




---
June 20, 2014
A. Hi Chris

I am a great advocate for chemical etching but I don't think it would be appropriate for your application.

I have just seen some metal artwork made simply and inexpensively using an arc welding set ("stick welding"). You don't need much power so a simple car repair set would get you started. What you do need is special cutting electrodes which produce an effect similar to a plasma cutter. These are readily available. Do get proper welding eye protection.

You need only basic welding skills which will also allow you to build up areas as well as cutting them.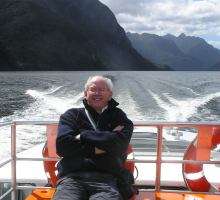 Geoff Smith
Hampshire, England
---
June 20, 2014

Thank you Geoff for your comments. We are proceeding with laser-cut silhouettes without any etched details. I will post results when complete in a month or so.

Chris
Chris Au
[returning]
- Vancouver, BC, Canada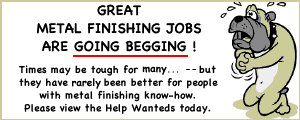 Plating Process Engineer [Wenatchee, WA]
Plating Supervisor [Chicago]
Plating Quality Inspector [Chicago]