World's #1 finishing resource since 1989
No login needed: Chime right in
topic 59591
Using Bronze Powder on Steel for Imitation Bronze Look
April 14, 2014
Q. Hi

I have purchased some bronze powder as I wanted to apply to brass and steel to give imitation bronze look, oil rubbed bronze and some other shades.

I have mixed with tap water, and relieved with a rag but I'm just not getting anywhere with it.

Can anyone please help me with this?
George Smith
- UK
---
May 20, 2014
A. George,
The metal powder, mixed with water, isn't going to stick unless there is an adhesive involved. Regardless, I think you would be better off looking into a bronze paint or similar coating.
Marc Banks
The Maker's Mark - Lenoir, North Carolina USA
---
May 23, 2014
A. Old immersion bronze process for steel wire:

Copper sulphate 10 gms dissolved in 250 mll water
Tin chloride 15 gms dissolved in 100 ccm water and then acidified with 20 gms hydrochloric acid
Mix those solutions, and add 750 mll water

Immerse your objects and remove them after 10 - 15 seconds. Rinse well, Dry and then apply wax other clearcoat.

According to Buchner G.:Die metallfaerbung,Berlin 1934.

Hope it helps and good luck!
Goran Budija
- Zagreb,Croatia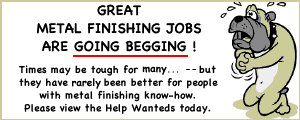 Plating Process Engineer [Wenatchee, WA]
Plating Supervisor [Chicago]
Plating Quality Inspector [Chicago]