World's #1 finishing resource since 1989
No login needed: Chime right in
topic 59589
10kt & 14kt Gold Parts Embrittled by Rhodium Plating
April 11, 2014
Q. I have recently run into a problem rhodium plating die struck earring backs in both 10 & 14kt. We had been plating these items on 10kt wire with excellent results, but in an attempt to increase our productivity we went to a mini barrel plating operation. After plating in the barrel the items become very brittle and lose all the spring in the metal. I have reduced the voltage in an attempt to reduce the amount of gas build up in the barrel but that does not give me an acceptable color. Our usual plating is at 3.5 volts for one minute. I have been down to 1.5 volts for three minutes with no ill effects to the metal, but the color is not right. Any suggestion?
Paul Cavallaro
Production supervisor - Union, New Jersey USA
---
April 24, 2014
A. Maybe the rhodium content in your plating bath is too low for barrel plating.
Neil Bell
Red Sky Plating

Albuquerque, New Mexico
---
May 6, 2014
Q. Neil,
We have consistently used a 2.5 grams per liter as a benchmark for our rhodium plating. We get excellent results plating the ear backs on the wire at this level. Is there a recommended level for barrel plating that differs from this?
Paul Cavallaro
[returning]
Production supervisor - Union, New Jersey USA
---
May 7, 2014
A. Many chemistry suppliers use a different formula for their barrel plating baths. I think you should ask your supplier.
Neil Bell
Red Sky Plating

Albuquerque, New Mexico
---
May 2014
A. Hi Paul. Is there nickel plating or other white plating before the rhodium?
You may find that you can't profitably barrel plate them. For the "why", please see Alfred Weisberg's "Rhodium Plating" chapter in the Metal Finishing Guidebook. He suggests not only that barrel plating will be very slow, but that the bath must be more acidic and lower in Rh concentration because you can't reduce the current without risking non-adhesion especially on nickel. But this hydrogen gassing that he wants you to increase further by reducing the pH and the Rh concentration seems to be causing a problem with your spring temper material.
Regards,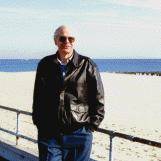 Ted Mooney, P.E.
Striving to live Aloha
finishing.com - Pine Beach, New Jersey
---
May 15, 2014
A. Hello Paul,
Ted and Neil gave some very good suggestions, and I just wanted to add a few notes. I'm pretty sure the company I worked for back in the nineties supplied your company with Rh and Pd, (T&W?). Anyway, I have had customers add a small amount of phosphoric acid to the bath to help achieve a whiter color. If memory serves me correct it was 5 ml/gal. You will want to verify my suggestion with your current Rh supplier. Also, if you have had success with your barrel plating in the past, and the brittleness is something new, you should sample the bath and have it checked for impurities. I'm sure your Rh supplier can do this for you. Iron is a big enemy to Rh baths and can be precipitated out with the use of potassium ferrocyanide [affil. link to info/product on Amazon]. If you do have impurities present, your supplier will know about this and may help you with the precipitation procedure. Good luck Paul.
Mark Baker
process engineer - Malone, New York
---
May 15, 2014
A. After you consider Ted Mooney's advice, then think about the barrel in one minute, how many revolutions does it turn, and is that enough to uniformly cover all the parts. One or two rpm barrels cannot do jewelry in one minute, you need about 6 rpm's.

Robert H Probert
Robert H Probert Technical Services

Garner, North Carolina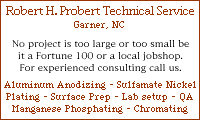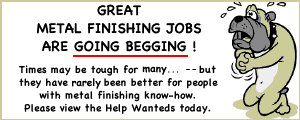 Junior Quality Engineer [Santa Clara, CA]
Plating Process Engineer [Wenatchee, WA]
Plating Supervisor [Chicago]
Plating Quality Inspector [Chicago]