World's #1 finishing resource since 1989
No login needed: Chime right in
topic 59587
Bonding limit between round wire steel and Hot Plated Finishes (zinc, nickel, etc.)
April 8, 2014
Q. Hello!

Problem: Evidently, there are "flaking" issues between Nickel Plating (basic standard QQ-N-290A) and Carbon Steels which the Steel is subject to Torsion/Bending (specifically springs). Coating springs in Nickel Finish is beneficial for corrosion over Zinc (from my experience), but Nickel can tend to "flake" when subject to repeated Load cycles where the wire undergoes bending/torsional forces.

Question:Is there information on Maximum Stress values to limit on the spring/material that will prevent the Nickel bond from "breaking" thus creating "flaking". Or is there an additional Heat Treatment that will help increase the bonding between the Hot Dipped Nickel and Carbon Steel?

Thanks so much for anyone that has any information remotely close to this!!

Tim
Tim Roe
Mech. Engineer - Downey, California
---
April 14, 2014
A. I doubt the nickel is "hot dipped" onto the steel, since the melt temperature of nickel is higher than most steel alloys. It is almost certainly electroplated.

Nickel is electroplated on large quantities of copper wire every day, and that wire is then subjected to drawing to finer and finer sizes, stranding into multiple wire constructions, twisting, bending and high insulating temperatures, all without any flaking or peeling at all.

There's no reason the same would not be true for nickel on steel.

The steel wire must be properly cleaned before plating, and the nickel should be plated from a low stress sulfamate solution.

You should contact a company which is experienced in plating on wire. There are several in the USA and elsewhere.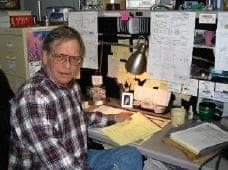 Jeffrey Holmes, CEF
Spartanburg, South Carolina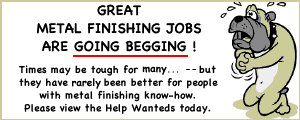 Junior Quality Engineer [Santa Clara, CA]
Plating Process Engineer [Wenatchee, WA]
Plating Supervisor [Chicago]
Plating Quality Inspector [Chicago]