World's #1 finishing resource since 1989
No login needed: Chime right in
topic 59581
Setting up a small Gold Plating Line
April 4, 2014
Q. We are a small surgical instrument distributor and even smaller manufacturer. We make a handful of our own instruments and do some repair/refurbish work as well. The instruments are usually a 410 grade Stainless Steel, some 420 and occasionally 300 grades. We Gold plate the instruments we make and currently use a small system we inherited from a person who used to do repairs for us. It consists of a couple of tupperware tubs and a rectifier. We use Wood's Strike and Technic's Gold solutions. And, we do one piece at a time.

Obviously, I'm a newbie at this, so bear with me. I want to set up a more sophisticated system and learn to maintain it properly. I really don't know how to care for and test my solutions. I want to be able to do multiple pieces at a time.

I've looked at some of the pre-made systems and I cannot afford them. My budget, less chemicals, is more like a few thousand dollars. I need tanks that will handle at least a 7" long instrument. I have seen some hobby kits that don't seem much more that what I have now. I'd like tanks for de-greasing, electro-cleaning (maybe the same as the former), Nickel Strike, Gold and rinses. Most of our instruments come out of Germany and they don't use a Nickel Strike. They use some acid based Gold solution and electro-clean the instrument first. I haven't seen that here.
I've seen the individual parts on a number of sites, I just don't know what I really need, like heaters, filters, sizes of rectifiers, etc., as well as how to properly care for and maintain the system. We plate maybe one day a week and do 25 items. We are not a high volume business.

That said, is there a resource someone could point me to that would help me with this? Any and all advice will be greatly appreciated.
Joe Black
Small Business - Owner - Tucker, Georgia USA
---
April 2014
A. Hi Joe. We don't like to suggest specific brands here, but because you already use Technic processes, and because they do offer small modular (table-top) console plating systems well-sized for 7" parts, and because their support helps make this site possible, I think you could start with them. They'll have a pre-designed console with (say, because I haven't looked up the specs recently) maybe 8 tanks each about 12" cube. Gold Touch [a finishing.com supporting advertiser] is another supplier offering small gold plating systems. Good luck.
Regards,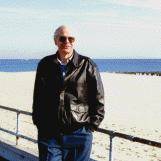 Ted Mooney, P.E.
Striving to live Aloha
finishing.com - Pine Beach, New Jersey
---
April 9, 2014

A. Hello Joe,
Just a note to add to Ted's response ... The console that Ted mentioned also has built in rectifiers and heaters. The small filter systems would be the "out of tank" type, because of the small sized tanks. You may have to request an increase in your budget however. With gold being around $1200 a troy Oz alone, you won't have much left to do want you want. Time to draw up an ROI if applicable. Good Luck to you!

Mark Baker




Process Engineer - Malone, New York USA





---

April 9, 2014

Q. I apologize for the brand name reference, but I did notice they were a supporter and with so many types of Gold plating I thought it may help with a better answer. I have talked breezily with them and they are quite helpful, especially for a small potato as me. Their small commercial units are very nice but out of my budget. I hated to pump them for information and only buy some chemicals occasionally. I'll go back to them for sure. I did speak with a consultant from your site and he was helpful, but spoke so fast and about things I wasn't very knowledgeable on that it wasn't enough to really help. He consults mostly with Anodizing plants, but seems very knowledgeable about the Gold process.

I was hoping there was a reference book geared more for my situation; larger than a hobby system, but not commercial sized either. I've read some papers and stuff that are way too broad in other plating and commercial systems. I enjoy your site. I refer to it often for other metal finishing processes as well. Thank you, again and I'll let you know what I turn up and do. Joe

Joe Black




- Tucker, Georgia USA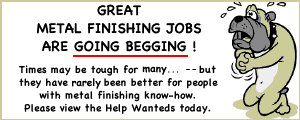 Junior Quality Engineer [Santa Clara, CA]
Plating Process Engineer [Wenatchee, WA]
Plating Supervisor [Chicago]
Plating Quality Inspector [Chicago]