World's #1 finishing resource since 1989
No login needed: Chime right in
topic 59567
High temperature oxide conductivities and Chrome evaporation
March 25, 2014
Q. Hello- I work on high temperature fuel cells that utilize stainless components (austenitic and ferritic) around 1400 °F. Stainlesses at these temperatures, especially in the presence of water (even amounts in air) cause Cr evaporation. This is not tolerable to our system due to poisoning. There are other alloys out there that have Al, or Ti, or Co that form protective oxides. We need electrical conductivity to be roughly the same as Cr oxides.
Does anyone have any suggestions of which metal would form a favorable oxide for this application? Perhaps a reference for oxide conductivity at temp? Perhaps some sort of plating on stainless could be utilized to keep the Cr trapped from diffusing out? Any insight is appreciated.
Keith Davis
- Danbury, Connecticut
---
March 27, 2014
A. There have been several PVD coatings developed for metal cutting tools that hold up at 1400 °F. These include TiAlN, AlTiN, and CrAlN. Not sure of the electrical conductivity of chromium oxide, but all of these coatings are conducting.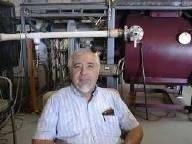 Jim Treglio
-
scwineryreview.com
PVD Consultant & Wine Lover - San Diego, California
---
April 30, 2014
A. Hello Keith, Did you consider coating Tantalum on Stainless steel? Ta does form oxides which have good chemical resistance even at high temperatures. I don't have any data on its conductivity, but the companies which provide this deposit might be able to provide you the data ... you could google them.
Venkat Raja
- KITCHENER, Ontario, Canada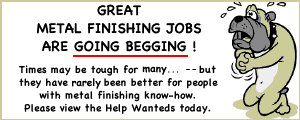 Junior Quality Engineer [Santa Clara, CA]
Plating Process Engineer [Wenatchee, WA]
Plating Supervisor [Chicago]
Plating Quality Inspector [Chicago]