World's #1 finishing resource since 1989
No login needed: Chime right in
topic 59566
Electroplating onto a pattern with geometric shapes
March 21, 2014
Q. Is it possible to have an array of square pillars that are covered by a copper seed layer, and then electrodepositing copper on top of this in such a way that the plated film holds the morphology of the initial pattern?

Imagine a city block with houses all the same size and evenly spaced, cover them in a copper layer and then plate copper on top. Will the end film look like the initial seed layer?

If so, what kind of bath would encourage this(high/low macro throwing power) and what plating technique (pulse or DC).

Thanks!
Luke Prestowitz
- wilmington, New York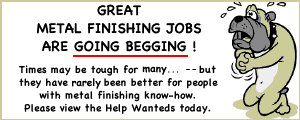 Plating Process Engineer [Wenatchee, WA]
Plating Supervisor [Chicago]
Plating Quality Inspector [Chicago]