World's #1 finishing resource since 1989
No login needed: Chime right in
topic 59550
Spray acrylic didn't harden on decoupaged coffee table
March 3, 2014
Q. I had decoupaged a coffee table with photos approximately six months ago. Any time I set anything on the table it tends to stick and leave a residue. I.e., newspaper, throw pillow, etc. I need some way to remove the residue without harming the coating or photos. Any help would be appreciated.
Robin Olsen
- Palm Harbor, Florida US
---
March 2014
A. Hi Robin. Spray coatings are usually either one-component or two. One-component coatings air dry as the water or volatile solvent in them evaporates. Two-component coatings (often called two-pack or 2K) don't "dry" -- rather the two components react with each other and "cure" into a hard surface rather than drying. If the two components are not in the right proportion, or are not thoroughly mixed, they remain soft and tacky forever.
I'm not sure if we're understanding your situation correctly because, assuming it was a one-component coating, it should have dried (certainly in six months!), so it's hard to understand what is keeping it tacky (unless your spray can was simply defective?). But maybe it was a spray can with a 2-in-1 head to dispense a two-pack coating that malfunctioned or it wasn't mixed well enough?
We have at least one report of successful application of a second coat, properly mixed, on top of a tacky first coat. It can't get much worse, so it sounds like it's worth a try. But if any reader has ever heard of material and method for hardening a tacky and improperly cured two-component coating, we'd love to hear about it.
Regards,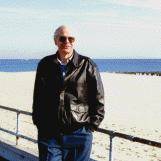 Ted Mooney, P.E.
Striving to live Aloha
finishing.com - Pine Beach, New Jersey
---
March 7, 2014
Hi Robin
Your question does not make clear if your photos are conventional prints or digital.

Conventional photographic paper is coated with gelatin which is both soft and absorbs water. Think in terms of water based glue! The situation is improved (but not entirely eliminated) if the processing chemistry includes a hardening stage; usually incorporated in the fixer. It is rather late to correct this if the photos are already mounted as they will require soaking in a hardener like alum and then washing and drying and this will destroy any glazed finish.

Digital prints will depend on the type of ink and paper used. Sublimation prints will be temperature sensitive and ink jet prints will not like solvents. Newsprint in particular has oily inks which transfer easily to paper that was designed to accept ink in the first place!

I do not think any spray coating will be sufficiently impervious to avoid any of this which probably explains why you do not see many coffee tables with decoupage photos.
Dyes in colour prints are temperature sensitive and deteriorate at different rates. Coffee cups on a coloured print will rapidly produce strange effects!

My best suggestion would be to put a sheet of glass over your pictures.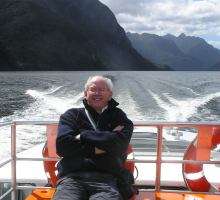 Geoff Smith
Hampshire, England
---
March 16, 2014
Robin,
I'm inclined to agree with Geoff's opinion as well. It gets complicated.
If you'd rather not use glass and want to get that sticky to go away I'd suggest using a 2 part clear acrylic resin (such as is used in casting). I've seen it, and similar products, used to encase any number of things in tabletops.

Lastly, there is the dirt cheap/possibly will destroy your table option.
Let me say that again, this way *might* destroy your table. It might also get the tacky issue to stop, proceed with caution.
Build yourself a cardboard curing oven. Since you're in Florida, find a box that will fit over the table, paint it black and set it and the table outside the next time it's dry, sunny, and over 95 degrees outside. If you're impatient, run a hair dryer or space heater in the box while it's outside to add additional heat/drying.
Fair warning, you're courting a fire using the space heater or hair dryer option since this will be heating up whatever goo you sprayed on.

With any luck it will evaporate out any remaining moisture or solvents from the mix and get the sticky to stop. Or it will erupt into a bonfire, your mileage may vary.
Marc Banks
Blacksmith - Lenoir, North Carolina USA
---
March 19, 2014
Q. Any suggestions on how to clean the residue i.e., paper, fabric, before I try to reseal?
Robin Olsen
[returning]
- Palm Harbor, Florida US
---
March 28, 2014
A. Robin,
There are MANY different solvents out there that might work. I'd try a couple of the standard ones first (acetone, MEK, denatured alcohol, etc) on some out of the way or scrap pieces to see if any are going to help dissolve the goo without dissolving the prints/photos/artwork/etc.

Once again, proceed with caution.
And kudos for keeping on with it.
Marc Banks
Blacksmith - Lenoir, North Carolina USA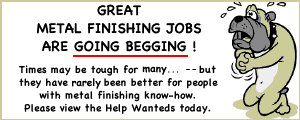 Junior Quality Engineer [Santa Clara, CA]
Plating Process Engineer [Wenatchee, WA]
Plating Supervisor [Chicago]
Plating Quality Inspector [Chicago]