World's #1 finishing resource since 1989
No login needed: Chime right in
topic 59537
High amount of Zinc in Anodizing waste water
February 22, 2014
Q. I work for a small metal finishing company in Michigan and we are having an issue with elevated amounts of zinc going out in our waste water. I have looked online and have seen many sites say that waste zinc is normal when anodizing, but it doesn't say what it comes from and how to minimize it. There are many water treatments that can be done to reduce / eliminate the zinc going out, but is that our only option?
Scott Czarnik
Plating shop employee - Jackson, Michigan, USA
---
February 24, 2014
A. Scott

If you run a lot of the 7xxx series aluminum, you could expect to have elevated levels of zinc in your wastewater discharge. Your anodize solution might have levels that preclude simple pH adjustment as the sole treatment prior to discharge.

Treatment options will likely depend on what other processes and treatments you have in place.

Minimizing dragout is on the top of the list of things to do.
Willie Alexander
- Colorado Springs, Colorado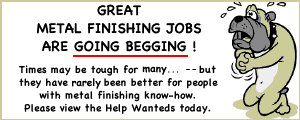 Junior Quality Engineer [Santa Clara, CA]
Plating Process Engineer [Wenatchee, WA]
Plating Supervisor [Chicago]
Plating Quality Inspector [Chicago]