World's #1 finishing resource since 1989
No login needed: Chime right in
topic 59520
Galvanic Issues with Earthing Spacers/Standoffs
January 31, 2014
Q. Hi,

I have known about your site for years and enjoy reading the articles. It is a brilliant reference. I am a mechanical design engineer that works on packing electronic assemblies.

An issue that has been bothering me for years has been the correct use of spacers, particularly for supporting AND earthing a PCB if an earth strap is deemed unnecessary. Usually, we go with the method that has been used in the past but the environmental requirements in new projects might vary. For example, an aluminum spacer might be ok sitting on a stainless steel plate to support a PCB if the enclosure remains dry but sometimes I ask if the enclosure really will stay dry in the new application and the answer is often no, or it's unknown at the time. So my question is this: is it a simple case of checking the galvanic series to make sure the spacer and the plate (the actual contacting surfaces) electrical potentials are similar enough for the indoor, outdoor or marine surroundings?

What is the deal with brass? It's close enough to Aluminum in the galvanic series but commonly plated with Nickel? I know they say brass / copper will tarnish and go dull in air? Is this a problem for earthing the PCB? I guess it must be -- otherwise why so many NPB spacers? The trouble is, a lot of these types of discussions are based on hearsay and very few people, in my experience, can confirm them.

One final question... Do you know of a good website for buying spacers? I know many sites (RS, element 14, Apex, Harwin and so on) that sell a limited range. They nearly always have one CLOSE to the one you need! If you think about the number of products that contain spacers in the world, surely the one you want is being made somewhere. It's a shame to keep drawing them every time you can't find YOURS in RS!
Iain Gilmour
- Brisbane, QLD, Australia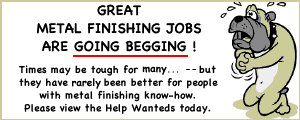 Junior Quality Engineer [Santa Clara, CA]
Plating Process Engineer [Wenatchee, WA]
Plating Supervisor [Chicago]
Plating Quality Inspector [Chicago]