World's #1 finishing resource since 1989
No login needed: Chime right in
topic 59517
After tumbling of titanium, how to remove oxides for brighter anodizing
January 26, 2014
Q. We manufacture medical titanium parts. We are facing the following problem:
As part of the manufacturing process, we place our titanium (6al4v) parts in a tumbler with a burnishing solution to remove burrs and round up sharp edges. The process works well. However, the part emerges with a darker color (coating). We think it is titanium oxide. When we anodize the part the color is obviously darker. In some cases the laser marking is barely visible.

We need to find out a way to remove this "oxide micro crust" after the tumbler process and before we anodize so that colors are brighter and marking is visible. Is there a way of accomplishing this? We have electropolishing machines. Is there some sort of commercial solution so we can use with our equipment?

Additionally, if you happen to know where we can buy some passivation chemicals to use with titanium, we would appreciate the reference.

Thanks,
Ricardo Romero
- Caracas, VENEZUELA
---
January 27, 2014
A. I'm more of a stainless steel guy than a titanium guy, but my chemistry and metallurgy instincts tell me that deburring shouldn't really be creating a dark oxide layer. I would try an alternate burnishing solution and see if the results come out different.

Passivating for titanium is essentially the same as for stainless steel. Citric acid based products for this are readily available.

Ray Kremer
Stellar Solutions, Inc.

McHenry, Illinois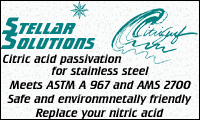 ---
January 27, 2014
adv.
Ricardo, contact me for electropolishing solution for 6Al4Va titanium alloy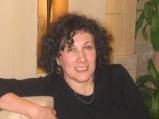 Anna Berkovich
Russamer Lab

Pittsburgh, Pennsylvania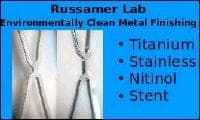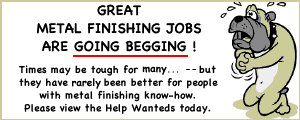 Junior Quality Engineer [Santa Clara, CA]
Plating Process Engineer [Wenatchee, WA]
Plating Supervisor [Chicago]
Plating Quality Inspector [Chicago]