World's #1 finishing resource since 1989
No login needed: Chime right in
topic 59515
Coating for aluminum which is ESD compliant for tooling use
January 23, 2014
ACRONYMS:
ESD = electrostatic discharge





Electrostatic Discharge
Q. Hello all.

I design work-holding tooling for electronic circuits. Lots of the tooling is manufactured using 6082-T6 aluminium and left raw. We would like to coat the tooling to reduce the risk of particle transfer and wear from part insertion.


The tooling will be heated from room temp to around 180 °C during use.
The costing must not flake or chip and needs to offer good wear resistance.
The coating must not thermally impede heat conduction to any great extent.
And the coating must be ESD-safe for use with sensitive electronic products.

What can you guys suggest? Any help is greatly appreciated.

Many thanks.
Tristian Sargeant
- Norwich, Norfolk, UK
---
January 24, 2014
Q. After doing some digging on the net, ESD-safe plating options which are commonly used appear to be:

Black Electroless Nickel
Silver Impregnated Anodize
Sulfuric Acid Anodizing Type 2
Hard Coat Anodize Type 3

One other thing to note: the plating must be good with water immersion and IPA solvent used during cleaning.
tristian sargeant
[returning]
- Norwich, Norfolk, UK
---
February 5, 2014
-- 2nd Request
Any help or input guys?
tristian sargeant
[returning]
- Norwich, Norfolk, UK
---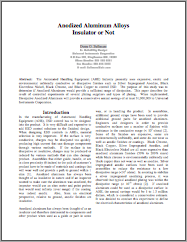 February 2014
A. Hi Tristain. I probably don't know enough about ESD, since Black Electroless Nickel plating would be somewhat conductive whereas hardcoat anodize would be extremely insulative.
Since an anodized coating on aluminum would seem to be di-electric, I thought this was a show stopper. But the article "Anodized Aluminum Alloys Insulator or Not" by Donn G. Bellmore seems to claim that anodized coatings have been found to be okay anyway in most applications =>
Regular cycling between room temperature and 180 °C is probably a bit of an issue for anodized coatings despite the success of anodized pots & pans because anodizing is a brittle ceramic-like coating with a coefficient of expansion only 20% that of aluminum, but it should be okay. IPA does not hurt any metallic coatings that I can think of. And while anodized coatings are not 100% corrosion resistant, they are certainly a big improvement over bare aluminum.
You understand your application much better than I, so I would suggest reviewing the referenced article to make sure you believe your application fits among the many that Bellmore finds safe. Then you can go with regular anodizing for improved wear resistance or the more-expensive hardcoat anodize for the ultimate wear resistance. They should prove more economical than more exotic solutions like silver-impregnated anodizing or black electroless nickel. Good luck.
Regards,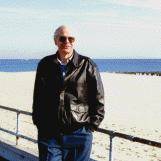 Ted Mooney, P.E.
Striving to live Aloha
finishing.com - Pine Beach, New Jersey
---
February 5, 2014
Q. Many thanks for taking the time to reply.

I too had read that very same article a few weeks back and I found it an interesting read and it helped me highlight the materials specified in my post.

Are there any anodised coating which better match the TE of aluminium? I guess the closer the match the less cracking will materialize during thermal cycling.

One last question if I coat bare aluminium with anodising what affect will this have on the thermal transfer properties? the tooling will be placed in an oven at 150 °C on a heated shelf. How much will the coating reduce the thermal transfer from the shelf into the tooling and into the part which rests on the tooling?

Many thanks.
tristian sargeant
[returning]
- Norwich, Norfolk, UK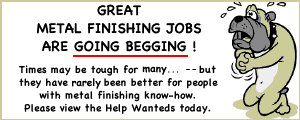 Junior Quality Engineer [Santa Clara, CA]
Plating Process Engineer [Wenatchee, WA]
Plating Supervisor [Chicago]
Plating Quality Inspector [Chicago]