World's #1 finishing resource since 1989
No login needed: Chime right in
topic 59513
Need new acid pickling formula for aluminum
January 21, 2014
Q. I have an old process that needs to be re-evaluated. I take a part that is sheet aluminum (5005 H34 clear anodized), clear powder coat it, mill part of it, etch and then clear coat with a urethane topcoat.
I sometimes have an adhesion problem with the clear powder coat. Our very old process consists of an acid pickle (2 lbs ammonium hydrogen Difluoride + 3 gal. of nitric acid + 3 gal. of sulfuric acid + 18 gal. of water). The part is held in this bath for 30 to 40 seconds. It is then rinsed in regular city water and then dried by compressed air, packed and sent to powder coater. They may sit for up to 3 weeks in a wooden crate before powder coating.
After reading many articles online, I am adding a DI rinse after the city water rinse to possibly help with adhesion. The owners of the company are afraid of change so I am taking small steps to solve my problem.
Is my acid pickle formula outdated?
Lawrence Kelly
process supervisor - Santa Ana, California, USA
---
January 23, 2014
A. 1. Yes, your formula is good, it is especially good for the 5000's alloy which is high in magnesium, other responders may not know this.

2. However, you leave that surface very active. Aluminum oxidizes rapidly. All that time on the shelf can coat with loose adherent white aluminum oxide which will flake off when the paint cures. They need to at least lightly abrade the cut edge before they apply the powder. Preferably the de-oxidation step that you do, needs to be done immediately before applying the powder.

3. We cannot do a commercial here, but proprietary ready to use deoxidizing solutions are for sale all over our industry in 5 gallons and 55 gallons, normally used at 10%/vol with less fumes, more safety, and no mixing other than diluting.


Robert H Probert
Robert H Probert Technical Services

Garner, North Carolina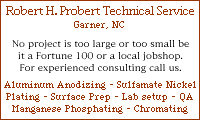 ---
January 24, 2014
Hi Lawrence,

There is nothing wrong with your etch formulation. You can't leave bare aluminum out for 3 weeks without coating as it just re-oxidises and is most likely the cause of your adhesion problems.
Brian Terry
Aerospace - Yeovil, Somerset, UK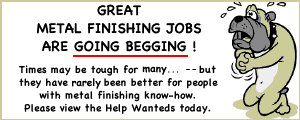 Junior Quality Engineer [Santa Clara, CA]
Plating Process Engineer [Wenatchee, WA]
Plating Supervisor [Chicago]
Plating Quality Inspector [Chicago]