World's #1 finishing resource since 1989
No login needed: Chime right in
topic 59506
D-I-Y atomically/molecularly smooth surfaces on aluminum (and maybe other metals). . .any tips?
January 16, 2014
Q. Some background:

I have been experimenting with D-I-Y microlithography (well, preparing to anyway). In order to do this, I need some sort of substrate. Silicon wafers are both too expensive and too fragile for my purposes. My thoughts are to use aluminum since it is (relatively) cheap. The problem is, however, the fact that the surface needs to be as smooth as possible. How would I go about doing this in a manner that is doable for an amateur such as myself? Chemical-mechanical polishing seems to be what is used for silicon wafers industrially, but this seems beyond the scope of something I could do, and besides I have been unable to find references for how to do it with Aluminum anyway. What about using regular means of polishing, and then electopolishing? What should I read to educate myself on the subject?

Thanks
-Kevin
Kevin Keith
home experimentalist - St. George, Utah, USA
---
February 28, 2014
A. Kevin,
While I don't know that it will provide you with the 'perfect' surface, I'd look into how home hobbyists grind telescope mirrors. They are regularly able to get irregularities and deformations down to under 10um (even less in some circumstances).
Many of their polishing techniques should be easily transferable, and you can do it to things like quartz and aluminum.

Hope I've helped a bit.
Marc Banks
Blacksmith - Lenoir, North Carolina USA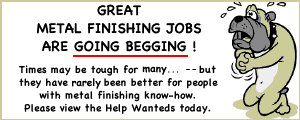 Junior Quality Engineer [Santa Clara, CA]
Plating Process Engineer [Wenatchee, WA]
Plating Supervisor [Chicago]
Plating Quality Inspector [Chicago]