World's #1 finishing resource since 1989
No login needed: Chime right in
topic 59484
Zinc Plating Problem: We must choose either Blisters or White Rust
December 10, 2013
Q. We have a high volume part, and gone to 3 different platers in 2 years. It is Zinc plated with clear trivalent chromate.
This part will develop corrosion on the inside (see pictures) if the plating is thin due to a "low current density" explanation; if plated thicker, it blisters on the opposite side. It is barrel plated.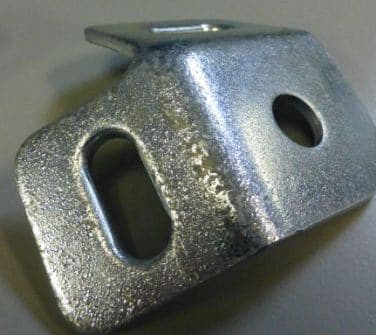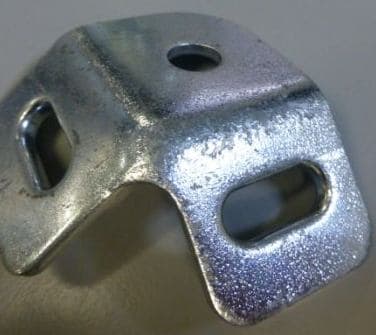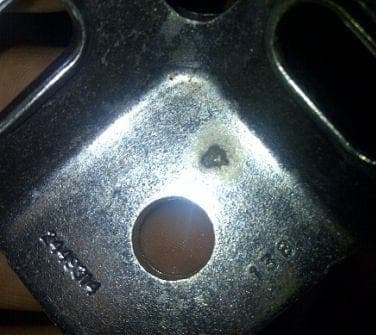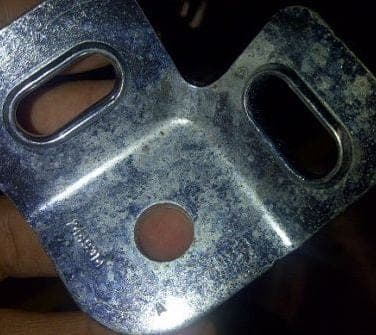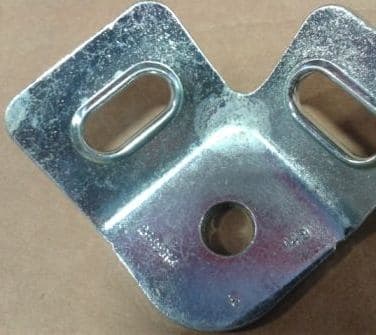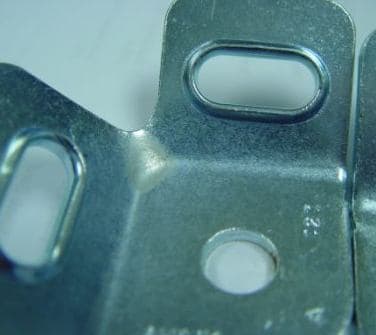 One plater says it is a drying issue. Another says "the chemistry of the bath will be adjusted to enhance the throwing power and reduce the possibility of blistering in the high current density area". Another recommended that achieving good plating by lowering the current in the rectifier and leaving it in the bath for a little longer; he doesn't recommend leaving the current the same and increasing the time as it would cause blisters , resulting in peeling.
Tim Morris
Director of Quality - Dolton, Illinois, USA
---
December 11, 2013
A. My first two questions would be: what type of steel is it (hot rolled, cold finished, heat treated?), and what plating process are these shops using (acid or alkaline zinc plating?). Some readers might possibly be able to answer one or both of those questions just from the pictures, but I can't. I only guess that it's acid zinc on low carbon hot rolled mild steel.
The thinness of the plating in the recessed corner, and the resulting susceptibility to corrosion is obvious in the photos. But I question the "necessity" of blistering if the plating is thicker. Have these parts received any mechanical finishing, such as tumbling or vibratory finishing ... it looks like they need it.
If the parts are presently acid zinc plated, better throwing power can be achieved with alkaline zinc (but it may not be suitable if the parts are heat treated).
Regards,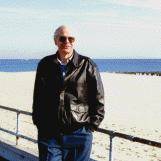 Ted Mooney, P.E.
Striving to live Aloha
finishing.com - Pine Beach, New Jersey
---
December 12, 2013
Q. The material is a XLF 070 high strength, no heat treating is done, the parts are tumbled at a deburring house, part on part tumbling. the plater's process is: Zinc Chloride plate, rinse, nitric dip, clear chromate dip, then dry. I hope that helps.
Tim Morris
[returning]
- Dolton, IL, USA
---
December 13, 2013
A. I agree with Ted. The tumbling process looks inadequate. Longer time *might* work, but tumbling with abrasive media will be better.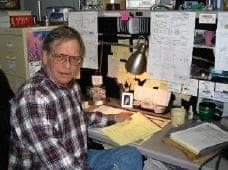 Jeffrey Holmes, CEF
Spartanburg, South Carolina
---
December 12, 2013
A. Hi Tim,

I suggest you contact a plater that has an ALKALINE zinc plating bath instead of acid zinc chloride. Acid Zinc is hard to level for those parts in barrel plating, and as we do plate parts of 3" length like that one without problems in an acid zinc plating bath (3 mm thick sheet with two soldered bolts), we have some thickness difference between sides of the sheet!

The alkaline zinc plating bath has a better leveling (this means that the thickness in both sides is approximately the same), and has (in average) a better salt spray performance. This parts (070 XLF, low carbon hot rolled steel) must be no problem for this type of process.

The best of lucks! Regards,
Daniel Montanes
- Canuelas, Buenos Aires, Argentina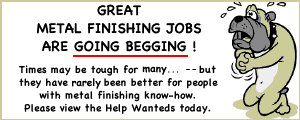 Plating Process Engineer [Wenatchee, WA]
Plating Supervisor [Chicago]
Plating Quality Inspector [Chicago]