World's #1 finishing resource since 1989
No login needed: Chime right in
topic 59466
Zinc Phosphate is red-brown on non-machined area of forgings
November 19, 2013
Q. Dear Experts,
Greetings of the day.
Have come across a peculiar situation in the last few days.
We have some carbon steel forgings with carbon not more than 0.25%. The same are being process annealed; the customer does insist on Normalising.
After the Normalising is done, the forged components are shot blasted and then machined and sent for Zinc Phosphating.
We have found out that these normalised forgings, after being phosphated, have a reddish brown color along with the phosphate on the non-machined area.
Upon making a reverse inspection, we have found that during pickling there is this reddish brown formation which does not clean in either Pickling or Degreasing. We have to then manually clean the jobs by brushing them.
Can we use 10% Sulphuric acid solution to clean or can anyone suggest any other option.
Regards.
Mekhala Patil
- Karnataka, India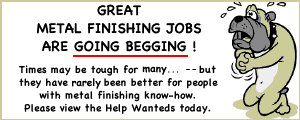 Junior Quality Engineer [Santa Clara, CA]
Plating Process Engineer [Wenatchee, WA]
Plating Supervisor [Chicago]
Plating Quality Inspector [Chicago]