World's #1 finishing resource since 1989
No login needed: Chime right in
topic 59461
Did galvanized metal kill my bees?
November 9, 2013
Q. I just lost a colony of bees, which absconded some time this week from the hive, queen and all. I have several theories for this, but one is poisoning from galvanized metal. I fed this colony twice using a piece of galvanized hardware cloth bent into a spiral and set in a jar of warm sugar water. The wire acted like a ladder to allow the bees to climb in and out of the jar, otherwise they will drown. Is there any evidence that bees are susceptible to the zinc, or anything else on the hardware cloth? Thanks.
Jon Wolff
- Hephzibah, Georgia, USA
---
November 19, 2013
A. After doing some research it seems that zinc isn't going to affect your bees. Zinc frames have been in used for ages and ages without displaying any ill effects on the hives they were used in.
Marc Banks
Blacksmith - Lenoir, North Carolina, USA
---
November 20, 2013
A. Selenium, cadmium, copper & lead are all possibilities.
Please see this article:
http://www.redorbit.com/news/science/1112966716/selenium-may-be-killing-off-honey-bees-100413/
Fauna Tester
- Seattle, Washington, USA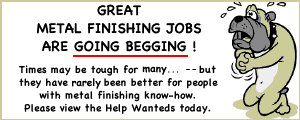 Junior Quality Engineer [Santa Clara, CA]
Plating Process Engineer [Wenatchee, WA]
Plating Supervisor [Chicago]
Plating Quality Inspector [Chicago]