World's #1 finishing resource since 1989
No login needed: Chime right in
topic 59453
Starter solenoids on tractors fail due to galvanic corrosion
November 6, 2013
Q. In the tractors used in coastal area of South India, the starter motor do not crank the engine if left unused for more than a week because an insulating blueish green or dark green deposit of copper chloride or copper hydroxide layer gets formed over one or both terminals of solenoid switch. The battery +ve terminal is connected to one terminal of solenoid switch and the other terminal is connected to the ground or negative through the motor at all times. It is learnt that this creates electrolytic as well as galvanic corrosion of the contacts in salty environments because the contact bolts are electrolytic or Oxygen free copper and the hardware like nuts and washers are galvanized steel. Any suggestions for preventing/reducing the corrosion to ensure trouble free starting in all seasons & in all coastal areas?
Please see attached pdf report.
Sivaram Krishnan
AUTO ELECTRICAL - Chennai, Tamil Nadu, INDIA
---
November 8, 2013
A. I would coat (a thin smear) the contacts with a bit of silver (oxide) paste used in electronics and then cover the terminal with a thick grease like old fashioned cosmoline.
James Watts
- Navarre, Florida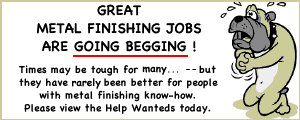 Junior Quality Engineer [Santa Clara, CA]
Plating Process Engineer [Wenatchee, WA]
Plating Supervisor [Chicago]
Plating Quality Inspector [Chicago]