World's #1 finishing resource since 1989
No login needed: Chime right in
topic 59448
Tin Contamination of Nickel Plating Bath by Media Ball Dissolution
October 28, 2013
Q. We have a problem with a Tin over Nickel finish on some small electronic copper parts peeling - microsections show a flash of tin under the nickel over the copper. The supplier says this is an unintended result of tin dissolving in the nickel electroplate bath from the media balls in the barrel at the beginning of the plating cycle.

Should the media be stripped or flashed prior to a new plating run, or is this just an issue of managing the rectifier (or...)? I have no barrel plate experience of any note, but plenty of basic electro- and elctroless plate processing...
Kenneth Ogle
Quality Engineer - Los Gatos, California, USA
---
November 4, 2013
A. Hello Kenneth,
My first question is; are you going into the Ni bath under live current? If you go in live you should not have the problem of the Sn dissolving from the media. If it takes the plater some time to set the rectifier, there would be a chance of some of the Sn dissolving into the bath. You may also want to check and make sure there there is nothing on the bottom of the Ni tank. Has there been an analysis done on the Ni bath to check for Sn? You want to make sure your activators are clean and free of metallics to rule out a pre - plate immersion deposit. Good Luck!
Mark Baker
Process Engineer - Mesa, Arizona, USA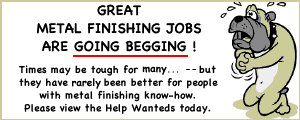 Junior Quality Engineer [Santa Clara, CA]
Plating Process Engineer [Wenatchee, WA]
Plating Supervisor [Chicago]
Plating Quality Inspector [Chicago]