World's #1 finishing resource since 1989
No login needed: Chime right in
topic 59447
Coating on Telescoping Aluminum Parts - White/Black/Grey
October 30, 2013
Q. My company is currently running a commercial product line of milled aluminum parts (15 cu in or smaller, photos available on request). These parts are currently being anodized black with a matte finish (finish is primarily for decorative purposes). We have interest in releasing an architectural version of the line in more colors and are trying to determine the best finishing option. The constraints are as follows:

1. We need to be able to do a white finish. While there are many discussions here about white anodizing, it seems to be a dicey direction if there are other options available.
2. Two of the parts have a concentric telescoping action that puts them in fairly tight tolerance to each other. The current target is a Class III fit after anodizing and specified as .0017 to .0042 differences in the diameters. Anodizing seems to be producing consistent results. I'm guessing this is because the coating is thin and thickness pretty controllable and consistent.
3. Lot sizes are in the 100-500 piece range.
4. Product is price sensitive.

We'd like to figure out an alternate finishing technique for these parts that can meet these constraints. Some research on this site has pointed to electrophoretic lacquer as a possible option (based on being a thin coating with all color options), but I'm not sure if that is best or only option.

We'd appreciate any recommendations on appropriate finishing techniques.
Torrey Bievenour
Product Designer - Ronkonkoma, New York, USA
---
November 18, 2013
A. I just wanted to add a bit of additional information as my personal research has progressed. In no way am I an expert, but I thought this might help others.

- It seems that, in the US, electrocoating is the more common terminology for electrophoretic lacquering. It may not be exactly the same, but seems to be very similar. Not many shops in the US mention electrophoretic lacquering but many more seem to offer electrocoating (based on web and Thomas Register searches).

- The electrocoating process does not seem to lend itself well to color changeover as the color is suspended in liquid and that seems likely to affect multiple tanks. In our case, with lower volume and the desire to do multiple colors, this seems to make it a bad match for our requirements.

- Where electrocoating coating services are offered, black seems to be the standard (or only) offering. If other colors are desired, powder painting over the top seems to be a popular choice.
Torrey Bievenour
lighting - Ronkonkoma, New York, USA
---
November 18, 2013
A. Thanks Torrey. I don't know that much about electrophoretic lacquering either, but one way of offering multiple colors is what they call "post dyeing".
The electrophoretic coating can stand alone, or can receive a clear polyurethane top coating for additional corrosion resistance. And, as you say, there can be powder coating on top of the electrocoating -- my own experience is that this an be an outstandingly corrosion resistant finish, probably because it will suffer none of the pinholes or thin coverage which powder coating alone can suffer.
Regards,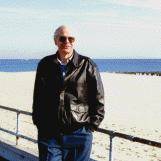 Ted Mooney, P.E.
Striving to live Aloha
finishing.com - Pine Beach, New Jersey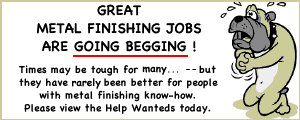 Plating Process Engineer [Wenatchee, WA]
Plating Supervisor [Chicago]
Plating Quality Inspector [Chicago]