World's #1 finishing resource since 1989
No login needed: Chime right in
topic 59436
Automotive Fastener Finishes of the 1900\'s?
October 20, 2013
Q. I restore antique cars and for the purpose of authenticity I would like to know if someone could tell me what type plating/coating, if any, was used on the nuts, bolts, washers, etc. on automobiles built around 1900's. I've heard that cadmium wasn't used until WW1 or later. Any specifics would be greatly appreciated.
Ray Morey
car restorer - Cary, Illinois, USA
---
October 24, 2013
A. Nickel and zinc plating were both readily available by 1900, Cadmium was not.

Various finishes would have been used depending on the purpose of the fastener and also the car manufacturer.

I'm certain that some fasteners were nickel plated when they were partially decorative, i.e., exposed trim screws and the like.

I'm also certain that most fasteners which were not usually visible were not plated at all. In fact this was true until late in the 20th century.

Since different finishes would have been used by different manufacturers, there is no one answer to your question. You should consult the concours judging standards for the car(s) which you are working on.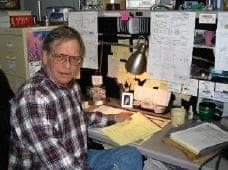 Jeffrey Holmes, CEF
Spartanburg, South Carolina
---
November 5, 2013
Q. Jeff, Thank you for your response. Your answer has pretty much confirmed my findings over the 40 plus years I've been restoring cars. The larger bolts, 7/16" dia. and up seemed to all be bare and 3/8" dia. and under were blackened or zinc, depending on year and make of car. The period from 1900 to 1910 to'15 seems to be when more zinc plating was introduced to replace the blackening process. Does this seem like a logical sequence in your opinion? As for Concours Judging, that's why I'm trying to contact industry knowledgeable people such as yourself, because this detail has been glossed over. Your input is greatly appreciated. Thanks again, Ray
Ray Morey
- Cary, Illinois, USA.
---
November 5, 2013
A. Ray,

What you said makes some sense, but given the vast number of manufacturers during that time period, I don't think you can make any universal statement.

The other problem is that the black or zinc coating could have easily been lost due to everyday use and weathering, so even if you could find an all original car, it might not be possible to say what the fastener finishes were.

The only thing I'm reasonably certain about is that many, and probably most fasteners were uncoated.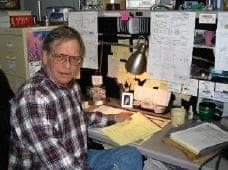 Jeffrey Holmes, CEF
Spartanburg, South Carolina
---
November 8, 2013

Jeff, Your expertise is greatly appreciated. Thank You, Ray
Ray Morey
- Cary, Ill., USA.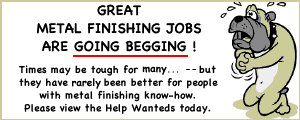 Junior Quality Engineer [Santa Clara, CA]
Plating Process Engineer [Wenatchee, WA]
Plating Supervisor [Chicago]
Plating Quality Inspector [Chicago]