World's #1 finishing resource since 1989
No login needed: Chime right in
topic 59427
Copper vs dull nickel for base for show quality chrome
October 16, 2013
Q. Using base coat of dull nickel then bright nickel then chrome, or copper bright nickel then chrome ...

Will they look the same if the prep work is great in both processes?
Scott Jones
- Las Vegas, Nevada, USA
---
October 17, 2013
A. Hi Scott. We have an Introduction to Chrome Plating FAQ which will answer this in greater detail for you, but I think there may be a bit of misunderstanding involved here...
The purpose of the copper plating is brightness, because the copper can be buffed to a mirror shine, and mirror smoothness is a big part of "show chrome". Unless you buff it, the copper probably does limited good; if you buff it, it does a lot of good. The copper is not there for corrosion resistance, and contributes little if any.
The dull nickel or semi-bright nickel is there for corrosion resistance, not shine. What happens is that dull nickel is cathodic to the bright nickel, i.e., the bright nickel sacrificially protects the dull nickel so that the bright nickel corrodes first, and this reduces the chance of corrosion penetrating all the way to the underlying steel (once all of the plating layers are breached, the steel will rust effusively trough pinholes).
The ideal "show chrome" is buffed copper underneath duplex nickel (the two layers of nickel); a single very heavy layer of nickel can be fine but involves a lot more nickel and therefore higher material cost than two thinner layers engineered to offer optimum galvanic protection; so OEMS use duplex nickel, or triplex. In restoration, the extra labor cost of two types of nickel plating may offset the extra material cost. So you can get good corrosion resistance from single layer nickel but it's probably less likely.
Regards,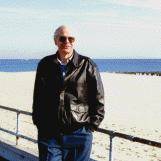 Ted Mooney, P.E.
Striving to live Aloha
finishing.com - Pine Beach, New Jersey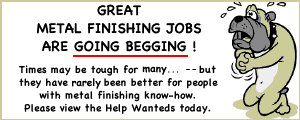 Junior Quality Engineer [Santa Clara, CA]
Plating Process Engineer [Wenatchee, WA]
Plating Supervisor [Chicago]
Plating Quality Inspector [Chicago]
Disclaimer: It's not possible to fully diagnose a finishing problem or the hazards of an operation via these pages. All information presented is for general reference and does not represent a professional opinion nor the policy of an author's employer. The internet is largely anonymous & unvetted; some names may be fictitious and some recommendations might be harmful.
If you are seeking a product or service related to metal finishing, please check these Directories:

Jobshops Capital
Equipment Chemicals &
Consumables Consult'g, Train'g
& Software
---
About/Contact - Privacy Policy - ©1995-2021 finishing.com, Pine Beach, New Jersey, USA