World's #1 finishing resource since 1989
No login needed: Chime right in
topic 59425
Problems plating Copper onto Copper substrate
October 11, 2013
Q. Hi Everyone

We are trying to plate copper onto some prototype parts made from a Copper (base), Chromium (0.6-0.9%), Zirconium (0.07-0.15%) alloy

We are using are using our general purpose acid copper plating solution and our usual Atotech Cupracid HT additives

We are experiencing variable and pretty poor adhesion and our people cannot work out why

I would really appreciate any suggestions or help that anyone give me in order to improve the process

I am not a plater but have a good knowledge of chemistry so I should understand your
answers

Many thanks in advance

Dave Fox
Dave Fox
R & D Industrial Supervisor - Manchester, United Kingdom
---
First of two simultaneous responses -- October 15, 2013
A. I have a feeling that the Zr is the source of your problem.

You might try a fluoride based prep step, prior to plating. Or, give the parts a little Cu flash in a cyanide copper strike.

Dave Wichern
Consultant - The Bronx, New York
---
Second of two simultaneous responses -- October 15, 2013
A. My first guess is that the copper has differentially oxidized and the current prep steps are not evenly clearing the oxide, thus variable adhesion. A variation of this is it is forming copper sulfate or chloride thick enough that it is not rinsing off completely.
Solution is to take a good long look at the strength and choice of the chemicals, the time and the temperatures.

An uglier possibility is a bit of burning some of the cutting fluid into the metal forming an organometallic which can be very difficult to remove.

PS, I have zero experience plating copper on copper-just nickel/silver on copper.
James Watts
- Navarre, Florida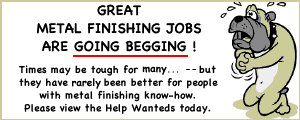 Plating Process Engineer [Wenatchee, WA]
Plating Supervisor [Chicago]
Plating Quality Inspector [Chicago]